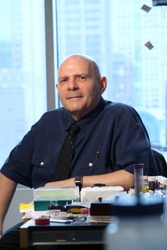 Renowned for his research in regenerative medicine, Samuel Stupp, PhD, director of the Institute for BioNanotechnology in Medicine, is being honored by the American Chemical Society (ACS) with the Ronald Breslow Award for Achievement in Biomimetic Chemistry as part of its 245th national meeting on April 9 in New Orleans. 
Stupp was nominated for the honor by E.W. Meijer, professor in molecular science at the Eindhoven University of Technology in the Netherlands. The nomination was seconded by Nobel Laureate Bob Grubbs and Royal Netherlands Academy Professor Roeland Nolte. 
"Professor Stupp is a pioneering researcher who is responsible for many breakthrough developments in hybrid systems using synthetic peptides as the building blocks," said Meijer. "He is internationally famous for his work on bioactive peptide amphiphiles, which are expected to revolutionize multiple therapies in regenerative medicine, and he is widely admired for his rich ability to initiate and explore completely new areas that do not fit within the well-defined boxes of chemistry, physics, biology, or medicine." 
Stupp and his laboratory conduct research to better understand the relationship between supramolecular structures on the nano scale and the functions of materials. His research has largely focused on molecular self-assembly strategies to create highly-functional materials of interest in widely varying fields, ranging from regenerative medicine to electronics. 
"My lab is currently using the bioactive supramolecular structures for research in regenerative medicine, cancer, and the development of novel targeted therapies," Stupp said.  "This includes investigating regeneration of the central nervous system to address neurodegenerative diseases and spinal cord injury, regeneration, and repair of blood vessels in ischemic disease, including the possibility of heart regeneration, as well as the regeneration of bone and cartilage." 
Stupp has also worked to develop supramolecular structures that biodegrade and reduce tumor volume in animal models without the use of any chemotherapy, and is also developing smart supramolecular nanostructures that can deliver drugs to specific compartments of the body in order to enable new cures for disease, avoid side effects of drugs, and enhance efficacy. Stupp holds appointments at Northwestern University Feinberg School of Medicine, the Robert R. McCormick School of Engineering and Applied Sciences, and the Judd A. and Marjorie Weinberg College of Arts and Sciences.