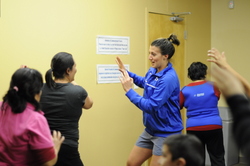 "Lift those muscles, arms up!" shouted Gabby Ahlzadeh to a group of women in a small conference room turned exercise studio.
Ahlzadeh, a second-year medical student, has spent her Monday nights for the past year teaching zumba classes at the Community Health Clinic (CHC) in West Town. The exercise class is part of the clinic's education program, where medical students volunteer to teach exercise, nutrition, and diabetes classes in an effort the help patients prevent and control chronic diseases.
Ahlzadeh teaches the class because she enjoys group exercise and feels that it provides another way to connect with the people at CHC.
"Because I see them on a weekly basis, I feel more involved with their lives, and I get to hear their stories," she said. "All I ask is that they challenge themselves and try their best, and, with guidance, a lot of them have become more active and more in shape. Whenever any of them loses a pound or finds themselves working out more, they are eager to share the news with me in class. Encouragement and partnership go a long way with patients in terms of satisfaction and honesty, and create a healthcare relationship that can thrive and succeed more efficiently and effectively."
Ahlzadeh incorporates lunges, jumping jacks, and squats into a variety of dance moves to upbeat, playful music. Every week around 10 to 15 women, all ages, come to class and sometimes bring their children.
"In exercises classes that I have taken, you work and push yourself harder when you know the teacher or instructor cares that you succeed," she said. "As physicians, we must find a balance between motivating our patients and supporting them, but also making sure that they are doing what they need to do to stay healthy, be it taking their medications, checking their blood pressure, or coming in for regular physicals. A lot of people get discouraged from exercising because they don't have someone there to motivate and push them, and I hope that I can provide that for those who attend my class."
The CHC is the largest volunteer-based free clinic in Illinois. The classes run weekly and students interested in diabetes and nutrition classes go through training. The students also help prepare monthly presentations on a health topic such as heart disease.
CHC Coordinator Adina Goldberger said, "Since most of the demographic of the patients at the CHC speak Polish and Spanish, we offer classes in Polish and Spanish, so students with language skills have something special to offer the clinic."
A second year medical student and MPH candidate, Goldberger has an interest in community medicine and working with underserved populations in the city.
"We are helping people live healthier lives. These classes are especially important for patients living with chronic conditions like diabetes and high blood pressure. Learning about healthy eating and exercise can lead to a better quality of life," she said.