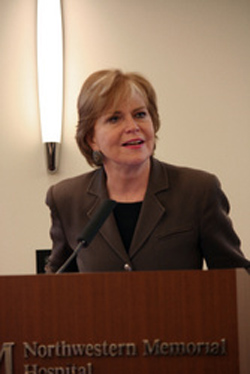 During an anniversary celebration on Tuesday, November 13, the Women's Health Research Institute re-launched with a new leadership council, new website, and new name, putting more emphasis on its advocacy for sex-based medicine. 
"Women's health research is an area of excellence at Northwestern University and the investment in this institute has catalyzed an even broader research agenda in the sex- and gender-basis of health and disease," said Teresa Woodruff, PhD, institute co-founder and Thomas J. Watkins Memorial Professor of Obstetrics and Gynecology. 
The monthly forum also featured the inaugural Voices for Women Award, presented to journalist Carol Marin for her balanced and in-depth reporting on issues of concern to women, and a keynote address by Katherine Wisner, MD,  director of the Asher Center for Research and Treatment of Depressive Disorders. 
"I find this group so impressive because it's new and somehow managed to grow itself for five years," said Marin, a political editor for NBC 5 News and political columnist for the Chicago Sun-Times. "Look at this election, where rape ended up being this pseudo, bizarre, mythological science of women being able to suppress pregnancy. It was a lunatic conversation in the middle of a political forum. If that doesn't tell us that this kind of group needs to exist, I don't think anything does." 
Wisner's keynote address focused on how the effects of sex extend well beyond the reproductive system, all the way to the cellular level. She pointed out that historically women were excluded from clinical trials, in part because of the physiological "noise" that menstrual cycling, pregnancy, lactation, and menopause create in the collection and interpretation of research data.  
"At this juncture in the evolution of research paradigms, this perceived disadvantage of the past can be recast as an advantage. Research advances result from continually refining our understanding of psychiatric disorders by discovering new relationships between variables that explain aspects of illness," said Wisner, professor in psychiatry and behavioral sciences. "As a field, we are poised to pursue the importance of gender as a variable that impacts the etiology, epidemiology, symptomatic expression, and treatment response in psychiatric illness." 
Formerly the Institute for Women's Health Research, Northwestern University Feinberg School of Medicine launched the organization in 2007 to spur much needed research on health issues that affect women throughout their life. Another of its missions was to create the Illinois Women's Health Registry as a way to provide a large pool of potential study subjects for researchers, who often have trouble recruiting enough participants.
"The Women's Health Research Institute is committed to being a voice for scientifically-based information on health issues that impact women," said Co-founder and Executive Director Sharon Green, MHA. "The current climate has ignited us to not only inform, but to become a stronger voice for women's health research and care, making sure the progress we have made is not reversed."