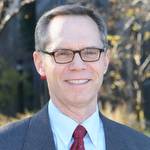 David Baker, MD, MPH, chief of general internal medicine and geriatrics and deputy director of the Institute for Public Health and Medicine, is being honored with one of the American College of Physicians' most prestigious honors, the Alvan R. Feinstein Award. Presented biannually to an American physician who has made a major contribution to the science of clinical epidemiology, Baker will receive the award at a convocation ceremony on April 11 in San Francisco. 
"I knew Dr. Feinstein when I was a research fellow and we all looked up to him as an almost legendary figure. I will never forget seeing him at a conference at which he stood up to ask a probing question of the speaker, and then sat down and filled an entire page with equations for a research project that was simultaneously occupying the other half of his brain," Baker said. "He was an amazing man, so to receive an award in his name means a tremendous amount to me." 
Baker, Michael A. Gertz Professor of Medicine, has focused his career on health care delivery for underserved populations and improving the quality of care for chronic medical conditions. He was one of the principal investigators for the first major study examining the prevalence of health literacy, and helped develop a test that assessed the health literacy of adults. 
"An individual's ability to understand and use health information is important to achieving their goals to stay healthy, manage chronic conditions, and make medical decisions," Baker said. "This is an exciting time because we are beginning to understand the problem of low health literacy well enough that we can design more effective interventions."  
Published extensively on the measurement of health literacy and the consequences of inadequate health literacy, Baker's current work is focused on examining quality measurement and quality improvement using electronic health record systems, including preventive services and care for patients with chronic diseases. He is also the director for the Center for Advancing Equity in Clinical Preventive Services.