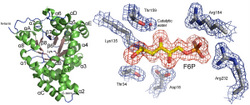 Samuel Light and Joshua Waitzman study how the smallest levels of biological processes work. As basic scientists, they analyze the properties and function of proteins in the hope that their research will lead to new or more effective drug therapies.
Both received the Driskill Award for Outstanding Student Achievement at the inaugural Driskill Graduate Program (DGP) Lecture and Symposium held in October. The award recognizes outstanding research that has clinical and translational significance.
"The award was based on outstanding research progress, as evidenced by publications, presentations, and letter of reference," said Nicholas Cianciotto, PhD, director of the DGP.
For the past five years, Light, a PhD candidate in the Department of Molecular Pharmacology and Biological Chemistry, has studied how bacterial enzymes function. He conducts research in the lab of Wayne Anderson, PhD.
"Because the enzymes I study are only found in bacteria, it makes them an attractive drug target for the design of antibiotics and antibacterials," Light said.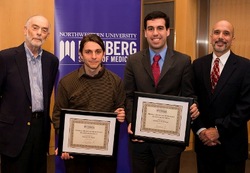 He uses techniques such as protein crystallography to determine the structure of enzymes. Light also uses these techniques to understand the chemical reactions within a protein.
"The process of determining a structure is arduous and time-consuming," said Light.  "There is a lot of monotony in the beginning. But when you get your data back and you analyze it, you know you are the first person to really see what this protein looks like and it is really exciting."
Waitzman, a Medical Scientist Training Program student, studies a different family of proteins called kinesins. Working with Sarah Rice, PhD, in cell and molecular biology, he seeks to understand how these motor proteins "walk" and how the cell regulates their movement, ensuring that the proteins are at the right place at the right time.
The specific motor protein he works on has four "feet," two at each end. By studying how a pair of these feet walk along the structures that make up the cell's "skeleton," Waitzman aims to determine how this protein creates the pushing force that allows cells to divide.
"There is a lot of interest in this protein as a chemotherapy drug target because cancer is a disease of too much cell division," he explains. "Attacking this kinesin is one way of targeting cancer."
Waitzman also looks at how the cell regulates this kinesin.
"I like the open endedness of studying how proteins work and how the cell tunes their functions," he said.
Both Light and Waitzman said they felt honored to receive the inaugural award, and look forward to discussing their research with their peers.