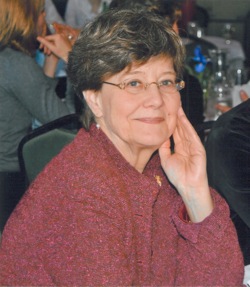 Credited as one of the founding scholars in the field of literature and medicine, Kathryn Montgomery, PhD, Julia and David Uihlein Professor of Medical Humanities and Bioethics and professor of medicine, has been honored with the American Society for Bioethics and Humanities (ASBH) Lifetime Achievement Award. 
Reserved for individuals who have made substantial contributions to the field of bioethics and humanities through their teaching and research, the award was given to Montgomery during the 14th annual ASBH meeting held October 18 through 21 in Washington, D.C. 
"It's a great honor to receive this award because the ASBH is the most significant academic association in the field," Montgomery said. "My career in medical humanities has been extremely gratifying, and I am proud to have helped recruit the group of academics that constitute our program at Northwestern." 
The Medical Humanities and Bioethics Program has a quarter-century history of interdisciplinary research and teaching at every level of medical education. Begun as a way of encouraging reflection on values issues in medicine, the program has expanded to promote and support interdisciplinary work in bioethics, the medical humanities, and the values-oriented social sciences.
Montgomery came to Northwestern University Feinberg School of Medicine in 1988 and has dedicated her career to advancing education in medical humanities. Prior to her role as director of graduate studies for the Master of Arts in Medical Humanities and Bioethics Program, she served as the program's director (1995-2009) and co-director (1988-1995). Montgomery's research interests include the epistemology of medicine and the use of literature in medical education. 
"The Medical Humanities and Bioethics Program at Feinberg has an international reputation, and that is primarily because of Kathryn's presence in the program," said Tod Chambers, PhD, Medical Humanities and Bioethics Program director. "As its director, she essentially built the program from a single-person enterprise that taught a number of courses that were electives, to one that has faculty from law, religious studies, history, literature, and anthropology and is engaged in a large number of required courses throughout all four years of medical school."  
Before coming to Feinberg, Montgomery was part of the faculty that founded the Morehouse Medical School in 1978. While at the University of Rochester School of Medicine during the '80s, she began the Medical Humanities division and took part in the school's landmark curriculum reform.  
Among her career highlights, Montgomery is proud to have helped establish Atrium as the annual report of the Northwestern Medical Humanities and Bioethics Program, and to have authored two books: Doctors' Stories: The Narrative Structure of Medical Knowledge (Princeton University Press, 1991), and How Doctors Think: Clinical Judgment and the Practice of Medicine (Oxford University Press, 2006). 
Among many previous honors, Montgomery is past president of the ASBH and a member of the Fellows Council of the Hastings Center. She has also served on the editorial boards of numerous publications, including Literature and Medicine, Medical Humanities Review, and the Journal of the Evaluation of Clinical Practice.