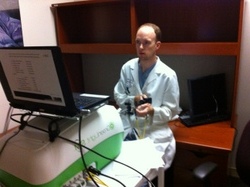 Kevin McVary, MD, professor of urology, has used medical simulators before, but an addition to the department is the most realistic tool he's seen when it comes to emulating the feel and focus required in an operating room. 
The state of the art medical-simulation technology is being tested by McVary and others as a means to improve real time skills by training doctors to perform minimally-invasive laser prostate procedures. 
"Because laser prostate surgery requires a different set of skills than the traditional procedure, we can use medical simulation to measure, test, and expand our surgery skills," said Chief Resident James Dupree, MD. 
Used to train residents prior to working on real cases, the prostate simulator allows users to practice procedures with varying degrees of difficulty to simulate realistic scenarios for transurethral prostate surgery. 
The simulator will even score a physician on their success in performing a transurethral resection of the prostate (TURP), a common surgical procedure to remove excess tissue from an enlarged prostate gland. 
"It's as close to the actual surgery as one can get without actually performing the surgery on a patient," Dupree said. "It provides a realistic image and simulates the feel of vaporizing an enlarged prostate." 
The TURP procedure is the preferred treatment for men older than 55 with an enlarged prostate who have difficulty urinating and cannot resolve the issue with medication. 
The procedure is an outpatient surgery performed by a urologist where the surgeon inserts a small scope equipped with a light and camera through the urethra to the prostate gland. Pulses of laser energy radiate from the end of the device as the surgeon vaporizes the enlarged, obstructive tissue. The doctor applies laser energy to remove the tissue and reduce the obstruction in the urethra. The procedure takes about 30-60 minutes. Patients recover faster as compared with the traditional procedure, have less bleeding, and may even be discharged on the day of surgery. 
"The future is quite bright for these technologies," McVary said. "I was just at Marine Corps Air Station Miramar in California speaking to fighter pilots who say they use simulation about 10-15 hours compared to every hour in the air flying planes. Maybe that is where we will be headed with medical simulation."