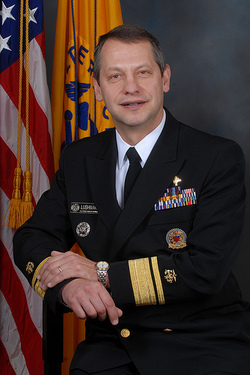 "Public health by definition is what?" Rear Admiral Boris Lushniak, MD'83, MPH, deputy surgeon general of the United States, asked an audience of medical and physician assistant students at Northwestern University Feinberg School of Medicine on Friday, October 19.
"It is no longer that emphasis on one individual as a patient…public health is, in fact, taking a hundred of you, or a thousand of you, or a million of you, and saying, 'Those are my patients, that is the group that I am involved with, and how can I generalize to affect the health not through one individual anymore, but through a thousand,'" he said.
Lushniak visited his alma mater to talk about the U.S. Public Health Service and its dedication to public health here and across the world. He gave a brief history of the organization and its missions, collaborative activities, and career opportunities, and talked about his own career path, including his time as an Honors Program in Medical Education (HPME) student and his first job as a lieutenant in the Epidemic Intelligence Service at the Centers for Disease Control and Prevention (CDC).
"The first time I ever put on this uniform, I didn't know what the public health service was, but I wanted to see the world, and I wanted to prevent disease," he said.
Lushniak then pursued a dermatology residency and established an occupational skin disease program at the National Institute for Occupational Safety and Health. During his time at the CDC, he served on disaster response teams in Bangladesh, St. Criox, Russia, and Kosovo. He was also part of the CDC team at Ground Zero and part of the team investigating the anthrax attacks in Washington, DC, both of which he said were life changing experiences.
He transitioned from the CDC to the Food and Drug Administration and was deployed after Hurricane Katrina to serve as the Department of Health and Human Services representative in San Antonio and as a deputy incident commander for the pandemic response to the catastrophe. He started his current position in November 2010.
"The beauty of our career path and something I was talking about earlier is that…you have no idea how many doors open up to you with that MD degree," he said. "If you want to do the clinical track, do the clinical track; if you want to do academia, do academia; if you want to do research, there is research; and if you want to do public health, there is public heath, policy, regulation – we have so many pathways. The excitement of the medical degree is that it is open, it allows you to see the world."
Following the presentation, several students had the opportunity to meet with Lushniak. Attendees had a positive reaction to his visit.
"I thought the speaker was interesting and relevant," said Erinma Ukoha, an HPME student. "It was good to learn about policies and initiatives the government is working on and to know they look at health disparities and take those into consideration when creating public health campaigns. Asking him questions about his personal experiences, especially the international experience, was rewarding."
Gabby Ahlzadeh, a second-year medical student, said she enjoyed learning about career options in public health and listening to him talk about his experiences as an HPME student.
"In medical school we learn about government initiatives and it is nice to see a face behind the work that is being done," she said. "Listening to the deputy surgeon general, I realized that public health service is something I can do and take part in. It was an aspect of the government I didn't know a lot about and now having learned about it, it opens up more career pathways."