Standing inside Method Atrium, more than 200 faculty and staff gathered Thursday, October 18, to celebrate one of the medical school's newest collaborative efforts.
Commemorating the Institute for Public Health and Medicine (IPHAM), which launched this past summer, the event provided Feinberg community members an opportunity to learn more about IPHAM's nine founding centers, network with faculty, and hear from senior leadership about its vision.
"This is a significant milestone in the growth of the public health enterprise within the medical school," said Rowland Chang, MD, MPH, director of the new institute and senior associate dean for public health. "Feinberg has continuously attracted researchers and educators interested in public health, especially in the space where medicine and public health interface. IPHAM's establishment allows us to align these productive entities and add new research centers in behavior and health, community health, and engineering and health."
The institute builds upon Northwestern University Feinberg School of Medicine's public health enterprise, which began with the establishment of the Department of Preventive Medicine in the '70s and today includes the Center for Healthcare Studies, the Buehler Center on Aging, Health, and Society, the expansion of the Master of Public Health Program, the Department of Medical Social Sciences, the Center for Global Health, and more.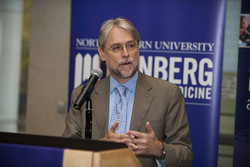 "We are beginning a new era and with this institute I think we have created a new environment out of many accomplished environments," said Eric G. Neilson, MD, vice president for medical affairs and Lewis Landsberg Dean. "IPHAM will forever be an important part of our research enterprise and generations of trainees and hopefully American medicine will benefit greatly from the discoveries we make."
The goal of IPHAM is to accelerate innovation at the interface of medicine and public health and achieve measurable improvements in health for patients and populations. The institute's centers focus on issues that span the spectrum from communities to the individual, and from health behaviors to genetic determinants of disease. Each was designed to expand, enhance, and complement existing Northwestern Medicine® research programs.
In addition to growing the faculty working in the medicine and public health space, the institute will finance innovative pilot projects with the goal of leading to large National Institutes of Health funded studies. IPHAM will be housed in three buildings, including two newly renovated floors in 633 N. St. Clair.
"The establishment of IPHAM will help Feinberg grow its computational or 'dry lab' research enterprise by stimulating more interdisciplinary research eventually involving all clinical departments and by attracting new talent to add to the number of dry lab researchers," Chang said. "The institute will distinguish Feinberg as one of the few medical schools which has public health as a substantial part of its ongoing research and education activities."
At the event, Chang thanked Dean Neilson, IPHAM Deputy Director David Baker, MD, MPH, Rex Chisholm, PhD, vice dean of scientific affairs and graduate education, and the IPHAM executive committee for getting the institute up and running.
"It's great to be able to be here today and think about what new opportunities this creates for us," Chisholm said. "One of the things that I have learned in talking with the people instrumental in making this happen is that we are at a pretty interesting place right now. A lot of universities have medical schools and may have public health schools, but even though these two might be right next to each other, they seldom communicate. One of the things that for me is very exciting, is to actually have the opportunity to bring those together."