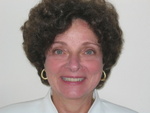 A pioneer in the field of stem cell biology for regenerative medicine is coming to campus next week as the inaugural Louis A. Simpson and Kimberly K. Querrey Distinguished Lecturer.
Helen Blau, PhD, director of the Baxter Laboratory for Stem Cell Biology and Stanford Institute for Stem Cell Biology and Regenerative Medicine, will deliver "Bioengineered Niches to Control Stem Cell Fate and Function," at 3:30 p.m. on Monday, October 22, inside the Hughes Auditorium. The lecture is being hosted by the Simpson Querrey Center within the Institute for BioNanotechnology in Medicine (IBNAM) 
Blau is credited with pioneering the use of heterokaryons – cells with two separate nuclei – in nuclear reprogramming and showing that the differentiated state is not fixed, but reversible and readily altered. Her more recent work capitalizes on this fundamental principle to generate novel cell sources for regenerative medicine.  
"Dr. Blau was chosen to give the first Louis A. Simpson and Kimberly K. Querrey lecture because she has made critical discoveries on the plasticity of cell fate that could have enormous impact in regenerative medicine, particularly in the field of muscle regeneration," said Samuel I Stupp, PhD, IBNAM director. "She has also brilliantly integrated principles of bioengineering in her seminal life sciences work that are critical to achieve the translation of her discoveries. Her work is a great example of interdisciplinary research that is of critical importance in the development of novel therapies for advanced medicine."    
Blau graduated from the University of York in England before earning a master's and PhD at Harvard University. She is an elected member of the American Academy of Arts and Sciences, the Institute of Medicine at the National Academy of Sciences, and a fellow of the American Association for the Advancement of Science.
The Louis A. Simpson and Kimberly K. Querrey Center for Regenerative Nanomedicine and annual lecture were established as the result of a transformative gift from the Querrey Simpson Charitable Foundation earlier this year. The center is meant to enhance Northwestern University's global leadership position in the field. 
"The field of regenerative nanomedicine was pioneered at IBNAM, and involves the use of nanotechnology to achieve the regeneration of tissues and organs," Stupp said. "This emerging field seeks to design highly bioactive supramolecular nanostructures that can signal cells to initiate regenerative processes. Examples may include regeneration of the central nervous system, heart muscle, bone, cartilage, muscle, tendons, and many other targets."