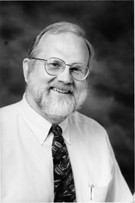 The Center for Structural Genomics of Infectious Diseases (CSGID) has been awarded a new contract with the National Institute of Allergy and Infectious Diseases (NIAID) and funding through August 2017.  Established in 2007, the CSGID allows for a better understanding of the pathogens and organisms that threaten public health. Director and Principal Investigator Wayne F. Anderson, PhD, is a professor of molecular pharmacology and biological chemistry at Northwestern University Feinberg School of Medicine.
The CSGID is a consortium comprised of eight laboratories, including Anderson's lab at Feinberg. The consortium uses structural biology technologies to determine three-dimensional structures of pathogen proteins. When the structures of these proteins are known, the germs from which they come can be better understood. This leads to better efficiency in the design and development of treatments for the diseases that those germs cause.
CSGID's work contributes to the mission of sponsor NIAID.
"We are very pleased to continue the work and extend the structural studies with further research characterizing the functions of the proteins," Anderson said.
Prior to the contract extension, the CSGID's work focused on the proteins from pathogens in the NIAID Category A-C priority lists – germs that contribute to diseases such as Anthrax, viral encephalitis, and cholera, that are considered most threatening to public health and national security. Since 2007, the center has revealed insight into many of these prioritized pathogens. With the extension, the consortium has an opportunity to study a broader range of human pathogens.