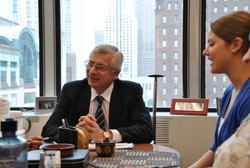 Sandy Ruiz appreciated the opportunity to use her Spanish. 
Introducing herself to Fernando Quiroga Dubournais, dean of health sciences at Universidad San Sebastian in Concepcion, Chile, the Class of 2014 DPT student wasn't shy about expressing her curiosity in an international learning experience. 
"Interest in this type of experience has been growing in recent years among our field, and I feel like we are really leaving a legacy that will last for many years to come," said Ruiz, who took part in a student project that helped make the student exchange a reality. "I am definitely grateful to have the chance to travel and represent our University in the global community. The ability to both provide a service and learn so much from the local people is a unique and exciting prospect." 
Quiroga Dubournais and Jules Dewald, PT, PhD, chair of the Department of Physical Therapy and Human Movement Sciences (PTHMS), met in California some 28 years ago and have maintained a friendship throughout careers that have brought them both to academic medicine. A member of the Department of Kinesiology at San Sebastian, Quiroga Dubournais said the exchange of students is something the pair had been discussing for many years. 
"We eventually started looking into a number of options with help from the Center for Global Health," Dewald said. "This is a way to give our students a more universal level of science beyond physical therapy. In South America and elsewhere, respiratory therapy is not done by just respiratory therapists, it's done by physical therapists as well, so it gives our students some exposure that they would not have here." 
Being established as a clinical rotation, the experience in Chile is expected to be in place in 2013.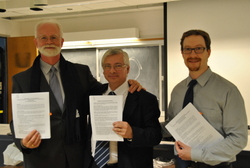 "It's a dream. It's very important for Universidad San Sebastian to have this agreement with Northwestern because Northwestern University brings with it international prestige," Quiroga Dubournais said. "I am particularly confident because I can feel the enthusiasm of the leadership, the professors, the researchers, and the students at Feinberg." 
While in Chicago, Quiroga Dubournais and Dewald had the chance to discuss the possibility of both student-faculty research collaborations and student clinical rotation exchanges. Although the details have yet to be worked out as to the number of students and faculty taking part in the international exchange, Quiroga Dubournais' stay did result in the signing of a formal institutional agreement. 
Working with Dewald, Nora Francis, PT, DHS, assistant professor in PTHMS, Toni Sander, DPT, associate professor emeritus in PTHMS, and a committee of PT students, Dan Young, associate director of global health education at the Center for Global Health, was able to help develop not only the pending opportunity in Chile, but also a second international exchange where DPT students will travel to Hillside Health Care International in Belize. That program will launch with a three-week trip by a pair of students in December, with the expectation of more students traveling there in May, November, and December 2013. 
"Global health learning is increasingly important for medical trainees since they allow students to develop cross-cultural and language competencies that they will need in their future careers, especially when working with diverse patient populations," Young said. "It also provides students the chance to learn about different health care systems, and if they visit resource-limited settings, they learn important lessons about access to care and health equity as well."