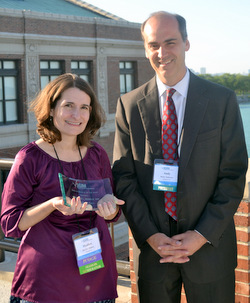 Heather Heiman, MD, assistant professor in General Internal Medicine and Geriatrics and director of clinical skills education, received the Clinician Educator Award at the annual meeting of the Midwest Regional Society of General Internal Medicine (SGIM).
"It was a huge honor to get this award from SGIM and to be recognized publicly," said Heiman, a member of the organization for 12 years.
At Northwestern University Feinberg School of Medicine, Heiman serves as chair of the Clinical Medicine Element Group, one of the four major subcommittees of the Curriculum Renewal Steering Committee. She is helping to develop an integrated, four-year continuum of clinical skills teaching and assessment.
"My major educational roles have been in developing curricula that are standardized so that many faculty members and senior students can deliver a consistent and high quality experience to students in small groups or one-on-one. I also love working with students who have faced academic struggles and finding ways to support them in their educational experiences at Feinberg," she said.
Heiman has also served as a college mentor, tutored students in problem-based learning courses, and acted as a preceptor for internal medicine residents.
"I am very grateful to Gary Martin, Jay Thomas, Marianne Green, and Ray Curry for supporting me as a clinician educator and entrusting me with challenging and interesting jobs here. I also thank Bill McGaghie for mentoring me in educational research methods, and I thank Allison Hammer and Marsha Kaye of the Augusta Webster Office of Medical Education for doing the behind-the-scenes work that makes the curricula we develop successful," she said.