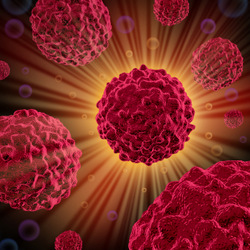 Two Northwestern University faculty members have received a prestigious 2012 NIH Director's Transformative Research Award from the National Institutes of Health (NIH) to develop technology to detect cancer metastasis at its earliest stages, allowing for life-preserving interventions.
The NIH this month awarded approximately $155 million to 81 researchers across the country through its High Risk-High Reward program. The program funds visionary research that exhibits the potential to transform scientific fields and speed the translation of research into improved health.
Lonnie D. Shea and Vadim Backman, both of the McCormick School of Engineering and Applied Science, will receive $4.2 million over five years for their innovative project. The grant is one of only 20 Transformative Research Awards given nationwide by NIH.
Their research team includes three others whose expertise also is critical in addressing such a complex problem. They are Jacqueline S. Jeruss, MD, PhD, assistant professor of surgery and a breast cancer specialist, and Stephen D. Miller, PhD, the Judy Gugenheim Research Professor in Microbiology-Immunology, both at the Feinberg School of Medicine; and Andrew Mazar, director of the Center for Developmental Therapeutics in the Chemistry of Life Processes Institute.
Cancer is the second-leading cause of death worldwide, with most cancer-related deaths resulting from metastasis of cells from the primary tumor. With the NIH support, Shea and Backman will work to develop an implant material that creates a localized biological environment that will attract metastatic cancer cells and a sensor that indicates when cells have colonized the implant. The sensor also will monitor cell growth.
Shea's role is to adapt techniques from his tissue engineering research to develop the biomaterial implant, and Backman's contribution centers on applying his non-invasive imaging technologies to act as the sensor.  
Shea is a professor of chemical and biological engineering, and Backman is a professor of biomedical engineering and the Walter Dill Scott Professor. They are co-principal investigators on the grant.
Shea and Backman are members of the Robert H. Lurie Comprehensive Cancer Center of Northwestern University and the Chemistry of Life Processes Institute. Shea also is member of the Institute for BioNanotechnology in Medicine (IBNAM).
The High Risk-High Reward program awards are divided into three categories: the NIH Director's Transformative Research Award, Pioneer and New Innovator awards.
The Transformative Research Award program, established in 2009, promotes cross-cutting, interdisciplinary approaches and is open to individuals and teams of investigators who propose research that has the potential to create or overturn fundamental paradigms.