His name stitched across the chest, Jason Shapiro slipped on his white coat for the first time with a sense of pride and passion. 
"It's the symbol of entering the profession and it comes after a lot of hard work, so it is special," said Shapiro, one of 14 first-year medical students in the Medical Scientist Training Program, who will earn both MDs and PhDs at Feinberg. "I have been really blown away by how amazing the faculty is, how attentive they are to us, and how much they think about us as students." 
A part of the 2012 Founders' Day Convocation held August 24, the presentation of white coats to the Class of 2016 is a tradition marking students' arrival as members of Northwestern University Feinberg School of Medicine. 
The event marks the culmination of a week and a half of events for new students, which included dinners with the dean and faculty members, as well as Introduction to the Profession week, an overview of the new curriculum, and team-building activities. Eric G. Neilson, MD, vice president for medical affairs and Lewis Landsberg Dean, began the day by inviting students to write the next chapter in Feinberg's 154-year history.  
"Welcome to this new portal of life focused on science and medicine," Neilson said. "Very few people have the privilege to enter the medical profession, and Feinberg will prepare you well for whatever path you decide to take."  
The Class of 2016 comprises 166 MD candidates. Along with 14 MSTP students, 15 individuals will pursue MD/Master of Public Health degrees and two will pursue a combined MD/Master of Arts in Medical Humanities and Bioethics.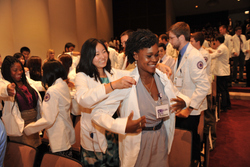 Focused on the future, while also paying tribute to the medical school's storied past, Founders' Day Convocation is often filled with emotion and laughter as new students get the chance to hear from University leadership.
Inviting Northwestern University President Morton Schapiro, PhD, to the podium, Dean Neilson presented him with an honorary white coat, an item Schapiro has desired since arriving at the school and attending his first Founder's Day four years ago. Graciously accepting the gift, Schapiro discussed the anticipation of what comes next.
"You have sacrificed so much and you have thought so long and hard about becoming physicians, and now you are just about there," he told the Class of 2016. "Realize that you are going to be doctors. Think of this as a realization of a lifelong dream. Be grateful for your family who contributed to that realization, and realize that you are already making the world a better place."
Following President Schapiro, renowned cardiovascular researcher Donald Lloyd-Jones, MD, ScM, chair of preventive medicine, delivered the Founders' Day keynote address. Before beginning his presentation, Lloyd-Jones admitted a bit of envy.
"This is a really exciting day, and I confess that, as weird as it sounds, I truly envy you," said Lloyd-Jones, senior associate dean for clinical and translational research and director of the Northwestern University Clinical and Translational Sciences Institute. "Exactly 25 years ago today, I was sitting in a seat as a freshly minted first-year medical student just like you, somewhat scared but also excited about what was to come. Let me just say: it's going to be great."
Focusing on a theme that has had a profound and continuing influence throughout his career, Lloyd-Jones delivered "Mentoring in Medicine: Your Journey Begins," offering students advice on who they might learn from.
"As good as the education at Northwestern Medicine is, one of your most important teachers just arrived. He or she is sitting right beside you, and will be donning a white coat for the first time in a few minutes, just like you," he said. "You will be surprised by the intensity of the friendships developed in medical school, and by the amount of learning you can and must take from your classmates."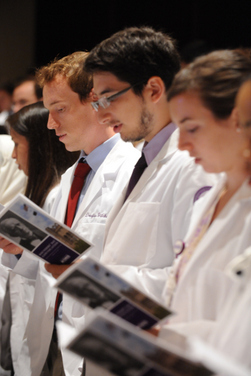 Reminding students that mentors can be professors, peers, or patients all the same, Lloyd-Jones explained that every interaction can evolve into a mentor-mentee relationship. The key, of course, is to pick those mentors who will anticipate what might come next and help you position yourself in a manner to succeed.
"Sooner than you can imagine, you will be mentoring someone: maybe a patient, a fellow student, or, very soon, a more-junior colleague," he said. "Being a mentor is the best learning experience of all. Your journey of mentoring in medicine begins right now."
Standing with faculty mentors Alicia Leung, MD; Jyoti Patel, MD; Eric Schaefer, MD; and Jennifer Strople, MD, new students were bestowed their white coats by members of the Class of 2015. Marking entry to the profession, the incoming class recited the Declaration of Geneva, the modern-day equivalent of the Hippocratic Oath, repeating after Raymond H. Curry, vice dean for education, "to practice their profession with conscience and dignity," and to maintain by all means in their power "the honor and the noble traditions of the medical profession."
"It's almost surreal in a way," said first-year student Zazi Nylander. "This place seems to have so many opportunities to become the individual that you want to be and I am excited about being able to have the time to take advantage of these opportunities."
Founders' Day also served as the backdrop for bestowing numerous student honors to those members of the Class of 2014 who have made a positive impact in the community and displayed a level of leadership commended by their peers.
Third-year student Christopher Childers, president of the Feinberg Student Senate, presented Gabby Ahlzadeh, Elaine Coldren, Phil DiSalvo, Adina Goldberger, and Hannan Qureshi with the Class of 2014 Student Senate Service Awards.
Following the convocation, friends, family, and faculty were invited to attend the Nathan Smith Davis Founders' Day reception. Sponsored by the Medical Alumni Association, the reception honors one of the founders of the medical school, who also served as its first dean.