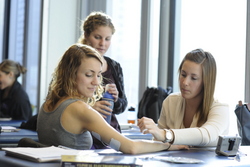 The Doctor of Physical Therapy Program (DPT) at Northwestern University Feinberg School of Medicine is not only the oldest physical therapy school in the nation, it also continues to rank among its best, according to U.S. News & World Report rankings.
Each year, the Department of Physical Therapy and Human Movement Sciences (NUPTHMS) enrolls 80 DPT students per class, with two students entering into the combined DPT/PhD in Engineering Program. Jane Sullivan, PT, DHS, assistant chair for recruiting and admissions for DPT, said Northwestern's program stands out because of the research opportunities it offers students. In an average year, more than half of DPT students have their research accepted for presentation at national physical therapy association meetings or other scientific society meetings.
"Our students are exposed to cutting edge research and contribute to the discovery of new knowledge through their own research projects," says Sullivan, associate professor of physical therapy and human movement sciences. "Additionally, our students learn to practice an evidence-based model that is patient-centered and progressive."
Students learn through a curriculum comprised of lectures and clinical experiences. This includes part-time clinical involvement during the academic part of the curriculum, as well as 38 weeks of full-time clinical internships divided between four of the more than 400 clinical education sites available throughout the country. While completing their internships, students must allocate time to acute care and in- and outpatient settings, and work with individuals who have neurologic, orthopaedic, and general medical diagnoses.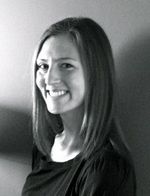 "All of our coursework is organized around a motor control framework that enables our students to diagnose and treat movement dysfunction," Sullivan said. "This unifying construct permeates all DPT classes and ultimately defines Feinberg students and alumni by their way of thinking." 
Stephanie Chirillo, a third-year DPT student in the Class of 2013, came to Feinberg knowing that a doctoral degree from a school with the reputation of Northwestern would serve her well after graduation.
"The curriculum in the physical therapy program is tailored to incorporate academic knowledge, cutting edge research, and clinical experience and I realized the strong interaction between all of these components would create a solid foundation for providing excellent patient care in the future," Chirillo said. "The faculty members at Feinberg are well-rounded and highly dedicated to our education, and the department is composed of professional clinicians, nurturing mentors, and innovative researchers, all which have positively impacted my education."
A class representative for research seminars and member of the student diversity committee within the NUPTHMS, Chirillo also serves as a host to perspective Feinberg classmates and acts as a student interviewer for candidates applying for NUPTHMS faculty positions.  
"At Feinberg, there are many leadership opportunities and ways to demonstrate my passion for health, wellness, and physical activity," said Chirillo, a student member of the American Physical Therapy Association. 
The combination of research opportunities and a collegial atmosphere is one reason Chirillo is happy she came to Feinberg. 
"The support and encouragement of my classmates has made my education here such a positive experience," Chirillo said. "The integration of innovative research and clinical experience at Feinberg provides students with endless opportunities to critically think through real-life patient cases."
To learn more about the DPT program, please visit their website.