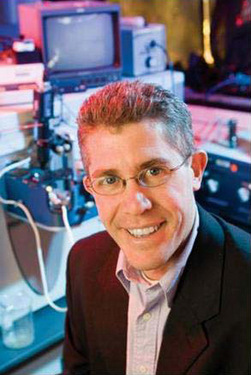 Neil Kelleher, PhD, the Walter and Mary E. Glass Professor of Molecular Biosciences, professor of medicine at Northwestern University Feinberg School of Medicine and director of the Proteomics Center of Excellence at Northwestern University, has been awarded a $1 million grant from the W. M. Keck Foundation.
The grant will fund Kelleher's development of a hybrid mass spectrometer, which will be used to better understand protein complexes from mitochondria in cells. Navdeep Chandel, PhD, a professor of medicine and cell and molecular biology at the Northwestern University Feinberg School of Medicine who studies the role of mitochondria, will provide the biological drivers for the project. Chandel is a co-investigator on the Keck award.
The team will develop and apply beyond-state-of-the-art mass spectrometry to determine the precise composition of multi-protein assemblies and how these change in models of aging and cancer. Research using the new tool will constitute a major advance in protein mass spectrometry, accelerate the understanding of disease at a molecular level and address a key challenge of this century: defining the human proteome (all the healthy proteins in tissues and organs).
The project advances a key goal of Northwestern's strategic plan: to "gain a deeper understanding of life processes, revealing new ways to diagnose and treat disease in the biomedical sciences."
Kelleher, a pioneer in top-down proteomics who has established one of the leading groups in the world that studies intact proteins, will direct the project team. Philip Compton, research associate in the Proteomics Center of Excellence, will oversee the instrument development in collaboration with the Thermo Fisher Scientific group led by Stevan Horning, senior director, research and development, and Alexander Makarov, director of research, life science mass spectrometry. John Tran and Adam Catherman will develop new separation methodologies for protein assemblies.
The W. M. Keck Foundation was established in 1954 by William Myron Keck, the founder of The Superior Oil Company. The foundation supports pioneering research and the development of new technologies in science and engineering, high-risk basic medical research with transformative potential, and undergraduate education in designated states.