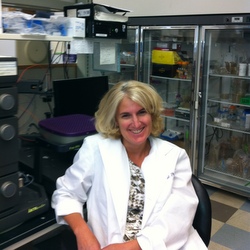 It's the salmonella of the sea, and Karla Satchell, PhD, associate professor in microbiology-immunology, and her team of toxin biologists are trying to learn just what makes Vibrio vulnificus so deadly.
Occurring naturally in warm, coastal waters, such as the Gulf of Mexico, Vibrio vulnificus infects humans in one of two ways: By ingesting raw or undercooked filter-feeding shellfish, such as oysters and clams, which concentrate the bacteria in their tissues; or by exposure of open sores to contaminated seawater.
Primarily a concern for individuals with liver disorders, diabetes, and immunocompromising conditions, when consumed, the bacteria enter the digestive tract and multiply rapidly. The bacteria then spread out of the gut, causing blood poisoning and soft tissue infection.
"Despite its importance in health and policy, there was an absence of active research on how this bacteria causes foodborne infection, as most previous work focused on wound infection," Satchell said. "As experts in Vibrio gut infections through our work on cholera, I thought this would be a good new line of study for our research lab."
Vibrio vulnificus infections are rare, but recent statistics from the Centers for Disease Control show the number of annual cases is increasing.  While the incidence is low, the fatality rates are high, making Vibrio vulnificus the leading cause of seafood-related deaths in the United States.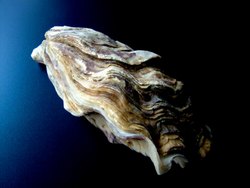 "The most disturbing aspect of our research is not that we found the MARTX toxin to be the primary virulence factor, but that it is undergoing a rapid genetic change in the environment," Satchell said. "There exists a capacity for new strains to emerge due to genetic changes in the toxin and our most recent data seem to indicate that such genetic variation may account for local outbreaks of hypervirulent Vibrio vulnificus."
Future research at Northwestern University Feinberg School of Medicine will focus on understanding how different portions of the toxin contribute to function and how variation affects toxicity and the types of cells it infects. The hope is that these data will help to survey the emergence of new variants and to track changes in the species to outline any impending threat to humans.
Related to Vibrio cholerae, the causative agent of cholera, Vibrio vulnificus is found in higher concentrations from April through October, when coastal waters are warm. Because of the increased risk, Satchell advises against eating raw shellfish during the summer months.
"As toxin biologists, we are most interested in understanding how the primary toxin functions, including how it binds to and enters cells and then how it destroys the epithelium at the cellular level," she said. "Much of our work focuses on developing new tools that allow us to dissect the toxin into its parts while still understanding how the toxin functions as a whole. We also hope that, similar to other toxins, our understanding of these proteins will tell us more about basic cell biology and provide new reagents to study cell biological processes and possibly even treat cancer."
Recent studies by post-doc Hee-Gon Jeong in the Satchell lab showed that secreted toxins have an important function in the gut to promote early in vivo growth and dissemination of the Vibrio vulnificus pathogen from the small intestine to other organs. The work was published in PLoS Pathogens in March.
Satchell's research is funded by National Institutes of Allergy and Infectious Diseases  (R01 AI051490-10, R01 AI092825-02, R01 AI09825-01) and an Investigators in the Pathogenesis of Infectious Diseases Award from the Burroughs Wellcome Fund.