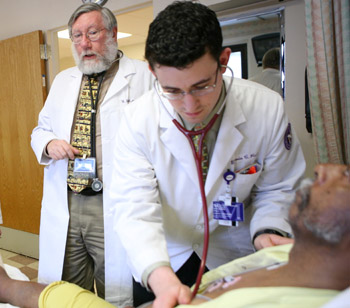 As a first-year medical student, Cindy Kahlenberg wanted to get involved in clinical experiences and start interacting with patients. When she heard about the opportunity to shadow residents and doctors through the Emergency Medicine Interest Group, she signed up. During her first experience, she saw several patients with minor orthopaedic injuries and other ailments, took part in some simple procedures, and learned first-hand from the resident she was shadowing. 
"On some occasions, I had the opportunity to take the patient's history during the initial assessment.  On other days, I shadowed in other parts of the ER and saw patients with all different types of issues, including drug overdose, heart attack, and various infections," she said.
Kahlenberg finds the opportunity to shadow rewarding because she gets to see how the principles that are taught in the classroom apply to treating patients. 
"With each patient that I saw in the ER, I learned something new about disease, and also something new about the most effective ways of interacting with patients. I think the accumulation of what I've learned from each patient in the ER will certainly make me more prepared going forward as I take on progressively larger roles in the hospital," she said.
The Emergency Medicine Interest Group is one of many student interest groups at Northwestern University Feinberg School of Medicine that provide chances for students to participate in shadowing experiences.
Cristina Thomas, a first-year medical student and shadowing coordinator for the Dermatology Interest Group (DIG), said that the group recently resurrected its shadowing program with the help of current fourth-year students.
"The shadowing program is a great opportunity for students interested in dermatology to meet faculty, see what life as a dermatologist is like, and gain valuable clinical experience," she said. "This is especially important at Feinberg because as a fourth year, the dermatology rotation is an elective. The shadowing program gives students early exposure to dermatology and a perspective that can guide them as they make rotation decisions as an upperclassman."
Every month about three students get the chance to shadow physicians in the dermatology department for four hours. The students work with several faculty members to ensure that they get a good understanding of the clinical cases they see, and have time to ask the attending any questions they may have.
Mark Maroongroge, a second-year medical student, chose to shadow in this specialty. He is interested in the field because it has a lot of patient interaction and counseling, and it allows the physician to rely primarily on his or her own eyes to diagnose the numerous internal and external diseases that can affect the skin. 
"As one of the more competitive specialties in medicine, dermatology is a field where it is particularly helpful for medical students to get an early understanding of their interest so that they can prepare their career paths accordingly.  Because of this, I am deeply grateful for the shadowing opportunities offered by the medical school faculty and coordinated by the dermatology student interest group," he said.
Maroongroge shadowed Jonathan Cotliar, MD, assistant professor in dermatology, during one of the physician's Thursday clinics.
"He was very welcoming, friendly, and eager to teach, and I was given several opportunities to watch him and resident physician Dr. Lisa Shen interact with patients and address a number of different medical conditions," Maroongroge said.
"I was impressed with how energetically and patiently the doctors approached each patient interaction, taking time to respond to all the patients' concerns and explain their medical findings and hypotheses, as well as making a significant effort to educate patients about preventative measures, such as wearing sunscreen and conducting regular skin cancer inspections at home."
During his experience, Maroongroge was struck by how many of the basic skills they learned as first-year medical students tied into the specific process of diagnosis and treatment.
"We have begun to learn how to take patient histories, and it was fascinating to see how critically important a proper understanding of a symptom's history could be to the evaluation of potential skin cancers," he said. "In addition to being a valuable opportunity to experience firsthand the daily work of a dermatologist and to solidify my interest in the field, the experience reinforced the patient interaction skills we have begun to learn as first-year medical students, including proper and respectful communication, thorough history-taking, and patient education."