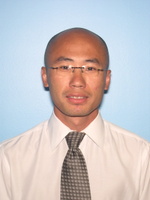 As the prevention and understanding of sports-related concussions moved to the forefront of athletic safety standards, Brian Tho Hang, MD, instructor in pediatrics, noticed a seemingly overlooked population.
"Research with concussions in younger children is very limited," Hang said. "The current guidelines are based on data from high school-aged athletes and older, and those guidelines are theorized to be applicable to younger competitors."
Turning those theories into a verified model is the basis of a $30,000 Brain Research Foundation (BRF) grant that will fund a study on concussive events among grade-schoolers. The research is meant to help improve a pediatricians' ability to evaluate and manage sports-related brain injuries among children, and guide future research regarding the diagnosis, treatment, and long-term effects.
"This grant will be used to investigate office-based neurocognitive assessment tools for concussed children and we will be investigating the commonly used Post Concussion Symptom Scale (PCSS), which is typically used to monitor symptoms and their progression/resolution in concussed athletes," said Hang, the grants principal investigator. "The PCSS is validated for high school athletes, but there is limited data regarding its reliability and validity in young children. We will also investigate a neurocognitive assessment tool developed by researchers in Australia for identifying cognitive deficits in school-aged children. Our study will investigate its applicability to assessing cognitive deficits in children after concussions."
According to the Centers for Disease Control and Prevention (CDC), children and teens are more likely to get a concussion and take longer to recover than adults. In addition, athletes who have ever had a concussion are at increased risk for another. A study by the Brain Injury Association of America and the CDC reported that 40.5 percent of athletes who suffer concussions return to play before it is safe to do so.
"Data is vitally needed to identify valid and reliable clinical tools pediatricians can use to measure concussive recovery in younger children," said Terre Constantine, PhD, executive director of the BRF. "In time, this funding will help advance clinical practices when pediatricians face these injuries among younger patients."
The research team at Feinberg consists of three sports medicine physicians, a pediatric neuropsychologist, statistician, and multiple research assistants.
"Our study will provide evidence to either support or refute what physicians currently use to assess concussion symptoms," Hang said. "It may also provide a new tool for physicians to assess these brain injuries in younger athletes."