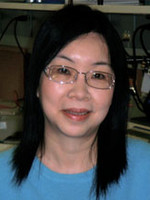 In the 91 years since the tuberculosis (TB) vaccine, bacille Calmette-Guérin (BCG), was discovered, it has grown to become the most widely used inoculation in the world.
Fulfilling its purpose as a combatant against the severe form of the TB found in young children, BCG's major flaw is its inability to provide lifelong protection. Over the years, it has proven to be largely incapable of stopping the pulmonary infection more commonly found in adolescents and adults.
"Because of that, TB continues to be a major public health problem today, with one-third of the world's population harboring asymptomatic, latent TB, and an estimated 2 million deaths caused by active TB annually," said Chyung-Ru Wang, PhD, professor in microbiology-immunology. "The only current vaccine against tuberculosis, BCG, offers little protection against infection in adults, making the development of improved vaccines, which generate strong cellular immune responses, a priority."
In the United States and other developed nations, where TB was once the No. 1 killer, antibiotic treatment of latent infection is now the major form of control. With an estimated 95 percent of new cases and deaths occurring in poorer nations, TB is second only to HIV/AIDS as the greatest killer worldwide due to a single infectious agent.
In its latent state, TB, caused by the bacteria mycobacterium tuberculosis (Mtb), cannot be transmitted and only leads to illness if an infected person's immune system is compromised, which occurs in roughly 10 percent of cases, and is especially prevalent in those infected with HIV.
Wang's research aims to test the ability of lipid vaccines to offer resistance to Mtb infection. Because the immune response against Mtb is thought to be mediated by T cells, her lab is looking at how an increased presence of a newly discovered T cell group correlates with improved disease prognosis in Mtb-infected individuals.
Wang has developed a novel mouse model to directly address the question of whether vaccination with mycobacterial lipid antigens can provide protective immunity to Mtb. Investigating which Mtb lipids elicit strong immune responses by the new T cell group will lead to improved understanding of the group's contribution in immune protection. If produced, a lipid vaccine would most likely be used as booster for BCG vaccinated individuals, similar to Mtb protein subunit vaccines currently in clinical trials.  
"The goal of vaccination is long-lived protection against subsequent infections and for TB there is limited understanding of what constitutes a protective immune response," Wang said. "Our study is exploratory in nature, but using these animal models, we are studying the developmental requirements and in vivo function of this unique subset of T cells."
Some of Wang's work has recently been published in the Journal of Experimental Medicine and Blood, and is supported by National Institutes of Health grant R01 AI057460.