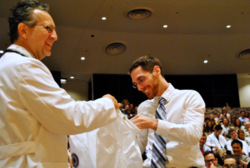 "I think this is one of the most important events in the life of being a medical student, the transition into clinical training," said John X. Thomas, Jr., PhD, senior associate dean for medical education, on Tuesday, July 3, at the Clinical Clerkship White Coat Ceremony for third-year Northwestern University Feinberg School of Medicine students.
The white coat ceremony represents the medical students' progression from learning in the classroom to hands-on training in the clinic.
"The immediate privilege you will all have as you begin your clinical clerkships is to care for your patients, to learn about the disease, and to learn from them and about them, as well," Thomas said. "This year is very important for your career in terms of figuring out which area of medicine is the best fit for you and in terms of your own performance. The clinical clerkships will mold the path of your career."
Thomas concluded by stating that the white coat is a symbol of the professionalism which is excepted of the students, and that it represents the attributes of altruism, respect, honesty, integrity, dutifulness, honor, excellence, and accountability that they should strive to achieve.
After his remarks, three teaching awards were presented:
Following the awards ceremony, Adrian Gaty, a third-year medical student, presented his essay, "The Whiteness of the Coat."
He recited, "These white coats don't just mean that we are entering the real world of medicine, they mean we are entering together, and that we all have the same uniform because we are all on the same team. We have each other's backs. My colleagues will be my sisters and brothers, as it says in the declaration."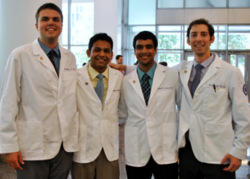 Before the students donned their white coats, Raymond Curry, MD, vice dean for education, said, "It's with this transition that you leave the classroom life that you've been part of since first grade, now entering on a full time basis in the participation of the care of patients. It is going to change you in ways that you might not realize right away."
The students then put on their new white coats, each embroidered with their name, the medical school patch, and other regalia. After turning the front rows of the auditorium into a sea of white, the students recited the Declaration of Geneva, a physician's oath.
"The ceremony was a brief but profound event in our medical educations," said Matt Hire, a third-year medical student. "I think I speak for my entire class in saying that this ceremony was transformative.
"Looking back to our first white coat ceremony almost two years ago, I cannot help but think how much my perspective has changed. No longer am I reciting the Declaration of Geneva thinking that one day I will actually be charged with caring for patients, but realizing that on Monday, when we step onto the wards, that this code will govern our professional behavior for the entirety of our medical careers."
Hire said that while he is excited for the next year and looks forward to learning from his attending physicians, residents, fellow students, and patients, "I know that I will be tested and challenged every day in the coming year, but I also know that when the year comes to a close, I will look back and realize that I have made incredible strides in my lifelong journey to becoming a competent physician."