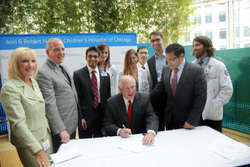 A new bill signed by Illinois Gov. Pat Quinn Thursday gave the green light for an ambitious new Northwestern Medicine project to make lifesavers out of junior-high students.
The project aims to train all sixth through eighth graders across the state in hands-only CPR and how to use an automated external defibrillator. Even at this young age, experts say students can save the life of someone who experiences sudden cardiac arrest, the leading cause of death in the United States.
The short training videos have been made by first-year medical students through CCARES, a foundation based out of the emergency medicine department at Northwestern University Feinberg School of Medicine. The mission of CCARES (Chicago Cardiac Arrest Resuscitation Education Service) is to increase survival of sudden cardiac arrest victims.
"This effort to teach kids how to perform CPR will save lives across the state," said George Chiampas, DO, cofounder and co-director of CCARES with Amer Aldeen, MD, both assistant professors of emergency medicine at Northwestern University Feinberg School of Medicine and physicians at Northwestern Memorial Hospital. "We know children as young as 10 years old benefit from this education and training and are more likely to assist someone who needs help."  
The new Illinois legislation, spearheaded by Chiampas and Aldeen, allows students to receive the video instruction about CPR and automated external defibrillator safety. Short training videos are an effective way to get bystanders to quickly respond, Aldeen said.
Children 12 years and older are able to retain the training education and are physically able to perform the CPR. And CPR is appropriate to perform on a child 12 years and up, so a child with the training could save a friend in cardiac arrest. If a child isn't physically strong enough for the hands-only CPR, he or she can instruct someone else in the procedure.  
The CPR bill was one of three health care bills the governor signed into law during a ceremony at the new Ann & Robert H. Lurie Children's Hospital of Chicago on Thursday – the same day the U.S. Supreme Court upheld the heart of President Barack Obama's health care law. The three bills signed by Quinn are all intended to help working families.
Only 8 percent of people survive after experiencing sudden cardiac arrest. Survival is doubled or tripled when a bystander performs CPR. Hands-only CPR, also known as chest-compression CPR, is equivalent to or even better than CPR that combines mouth-to-mouth resuscitation and chest compressions, Aldeen noted.
The project for students is part of a larger effort by CCARES to extend the life-saving training throughout the entire state. An estimated 400,000 people die of sudden cardiac arrest in the U.S. each year.    
"It's clear that this education can improve clinical outcomes in a very real way," Aldeen said. "People will live longer and die less often because of this training. We will help create a culture of safety where Illinois citizens will get bystander CPR from fellow citizens when they are in cardiac arrest."
Functioning as the community arm of the larger, statewide Illinois Heart Rescue Team, CCARES received a grant from the Medtronic Foundation to begin a large-scale project to train communities in Chicago and throughout Illinois to improve the rate of CPR conducted by bystanders. CCARES and its partners in the Illinois Heart Rescue Team will create videos in Spanish and Polish. A key goal is to eliminate disparities in CPR training for the public.
In addition, CCARES is in the process of training the entire Chicago Police Department in hands-only CPR and automated defibrillator use. An estimated 4,000 police officers have already received the training.