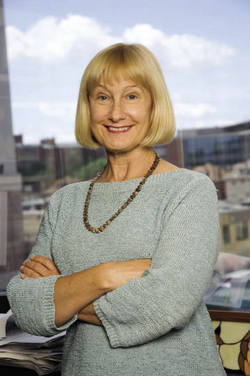 Katherine Wisner, MD, MS, an expert in the identification, characterization, and treatment of mood disorders in women, and a pioneer in psychiatric disorders associated with childbirth, is joining Northwestern University Feinberg School of Medicine on July 1 as the Asher Professor of Psychiatry and Behavioral Sciences. She has also been named director of the Asher Center for the Study and Treatment of Depressive Disorders.
"Dr. Wisner's vast understanding of the study and treatment of depressive disorders makes her an outstanding addition to the medical school," said Eric G. Neilson, MD, Feinberg's vice president for medical affairs and Lewis Landsberg Dean. "A prestigious researcher, her work will help elevate the status of the psychiatry and behavioral sciences department, and her recruitment demonstrates our commitment to an exciting new area of scientific investigation."
As director of the Asher Center, Wisner will coordinate a group of prominent basic and clinical scientists with strong interests in mood disorders. The recipient of the American Medical Women's Association 2011 Women in Science Award, Wisner has been the director of Women's Behavioral HealthCARE and a professor of psychiatry, obstetrics, gynecology, and reproductive sciences at the University of Pittsburgh School of Medicine since 2002. The principal investigator of several foundation and National Institute of Mental Health (NIMH)-funded research projects, Wisner was honored with secondary appointments as a professor in epidemiology and women's studies in 2004. She also joined the faculty of the Pittsburgh Clinical and Translational Science Institute in 2010.
"Katherine Wisner is arguably the nation's foremost expert in women's mental health. While the Asher Center is focused on depressive disorders, combining that emphasis with a focus on women's mental health positions us in a unique and very powerful way," said John Csernansky, MD, chair of psychiatry and behavioral sciences. "Moreover, Dr. Wisner has a superb track record of mentoring young scientists, and in developing collaborations with experts in other fields."
During her research career, Wisner became the first American psychiatrist to develop a technique to monitor possible infant toxicity caused by psychotropic medication in breast milk. With her leadership of a subcommittee of the American Psychiatric Committee on Research on Psychiatric Treatments, the first comprehensive model of risk-benefit evaluation for treatment of depression during pregnancy and breastfeeding was published. She also performed the first comparative drug study for postpartum depression, and her work in public health resulted in the first comprehensive NIMH-funded demonstration screening project for postpartum depression.
Wisner earned her master's degree in nutrition and MD from Case Western Reserve University in Cleveland. Board-certified in adult and child psychiatry, she completed a three-year postdoctoral training program in epidemiology at the University of Pittsburgh. The immediate past president of the Marce Society, an international group dedicated to the understanding, prevention, and treatment of mental illness related to childbearing, Wisner has served on NIMH grant review sections since 1994. She is a member of the American Medical Association, Society for Women's Health Research, and American College of Neuropsychopharmacology among other honorary societies.
Her work studying the impact of exposure to major depression and treatment options during pregnancy has resulted in more than 165 publications.