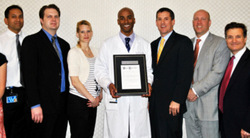 Marco Ellis, MD, chief resident of plastic surgery  at Northwestern Memorial Hospital, has had an interest in diversity programing since his days as an undergraduate medical student. When he entered his residency program at McGaw Medical Center of Northwestern University in 2005, he wanted to create a similar amount of enthusiasm for minority presence here.
"As an underrepresented minority diversity is important because you look for that sense of belonging, community, and mentorship when you decide to enroll in a program," Ellis said.
He became involved with the McGaw Diversity Council in 2007, and assisted, and organized programming for some of their small initiatives, in addition to mentoring medical students. Ellis served as a great resource to the council, sharing his experiences and ideas to increase diversity at McGaw, and started a new foundation last year, Northwestern McGaw Underrepresented Residents and Fellows Forum (NMURFF). 
For his extraordinary contributions in increasing diversity in McGaw programs, an award was created in his honor. Ellis was the inaugural recipient of this award on June 8.
"I was absolutely appreciative and awe struck when the award was presented to me, and, to have the award named after me was a surprise. I don't see the work that I've accomplished on the Diversity Counsel as community service or volunteer work. I see it as part of my job as a physician," Ellis said.
The award honors Ellis' character, work, and commitment to diversity and will be presented annually to those who demonstrate an interest and devotion to improving the experience of underrepresented minorities on campus.
"We knew we had to honor Dr. Ellis because he was involved from the beginning and has always been reliable. His thoughts, comments, and ideas were insightful and we were able to learn from him," said Rob Christopher, executive director of McGaw Medical Center.  "Marco directs a lot of our efforts and is so helpful. A lot of our success has come from his involvement and leadership."
In 2007, Christopher and Sunny Gibson, director of Minority Affairs at Northwestern University Feinberg School of Medicine, started to talk about diversity initiatives in the residency program.
The former Graduate Medical Education dean, Sharon Dooley, MD, MPH, Albert B. Gerbie Professor of Obstetrics and Gynecology, conducted some comparative analysis and peer institution benchmarking and determined that McGaw needed to work on diversity.  Dooley established the Diversity Council and had it approved by the Graduate Medical Education Committee.
Since the Diversity Council started, McGaw has more than doubled the number of underrepresented minorities in the resident match and has expanded diversity among specialty groups, such as increasing women in surgical fields and male representation in obstetrics and gynecology and family medicine.
"I had always felt that I didn't have a strong answer when prospective medical students asked me about diversity among residents and I knew that we could be doing more.  After being here for a year or so, I didn't really see any visible McGaw-wide efforts.  There were some departments who were really doing great things in terms of diversity, and others that had no mention of it at all," Gibson said.
So, the council started the visiting clerkship program and the Residency Showcase in 2008 to attract minority medical students. 
"Fortunately, Sunny and the members of our Diversity Council have a lot of experience and keen instinct.  Thus, most of our initiatives in those early years, like the Residency Showcase and the clerkship program, have proven to be successful beyond our expectations," said Christopher.
Since then they have added other initiatives, such as sponsorship of the Student National Medical Association and Latino Medical Student Association and second visits, and established NMURFF. 
The residents and fellows that lead NMURFF carry out programming in four areas: mentoring, networking and career development, outreach, and strategy and collaboration. The idea for NMURFF came from Ellis and his time spent at Harvard University.
"There was a community at Harvard where underrepresented staff got together for networking, socializing, and enrichment. That didn't exist here when I started," said Ellis. "When you are a minority student and you feel marginalized in a profession, you want to go to institutions where these efforts are already in place. It would be nice if Northwestern could lead that in the Midwest."
"Residents were very central to our work in forming the forum, and they remain crucial partners in its success, both in helping us deliver programs and informing our process.  We quite literally cannot do it without them," said Gibson.
"In the beginning, the residents taught us about their experiences, what to focus on in our strategies, and how to make our institution more welcoming.  They helped us understand how our institution was viewed and received by prospective candidates and also were very candid about their training experiences, both supportive and challenging," said Gibson. "They shared their ideas and insights with us as we developed each component of McGaw's diversity infrastructure."
"What's really impressive to me is that the members of NMURFF are all active residents and fellows.  We all know how incredibly busy these people are, yet they recognize the importance of diversity throughout our institutions and want to be a part of making a positive difference at Northwestern," said Christopher.
As Ellis starts his one-year fellowship in cranial facial surgery at Johns Hopkins, he hopes to stay in close contact with NMURFF, the organization he helped found.
"It would be ideal to be at an academic institution where I can resume these administrative interests. It would be nice to come back to Northwestern because there are opportunities here," he said.