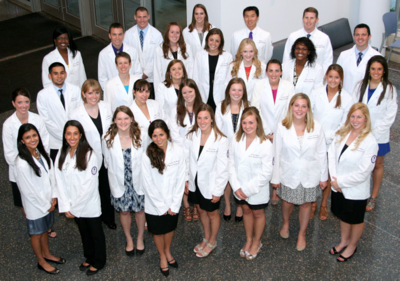 To pursue her passions in medicine and service, Brittany Johnson decided to enroll in the Northwestern University Feinberg School of Medicine Physician Assistant (PA) program, which is housed in the Department of Family and Community Medicine. 
"Recognition and appreciation of humanity in medicine and an understanding of medicine as service is critical to being an effective physician assistant," she said.  "I was attracted to Feinberg because its location in the center of downtown Chicago allows students to be immersed in diverse and vulnerable communities."
She also said she appreciates that Feinberg uses a multi-faceted curriculum that includes general lecture, small group discussion, clinical rotations, and team and problem-based learning.   
"We can apply these techniques to the daily practice of physician assistants as they work with other members of the healthcare team to discuss and solve healthcare challenges and problems," she said. "A physician assistant must be comfortable and confident using an interdisciplinary approach to medicine. The PA program allows us to interact with medical students, therefore establishing an understanding of other healthcare professions."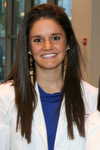 Johnson joined 29 of her peers in the Class of 2014 to be initiated into the PA Program at a white coat ceremony on June 8.
James Van Rhee, MS, PA-C, associate professor of family and community medicine and director of the PA Program, welcomed new students and thanked the friends and family who came to show their support for the medical school's newest PA students.
"The white coat ceremony is an experience by which participating schools alert students they need to balance excellence in science with compassion in patient care. This white coat is the garb that physicians have traditionally worn over 100 years and other healthcare professionals such as PAs have adopted it," he said.
Sincer Jacob, a second-year PA student and president of the Class of 2013, gave a welcome address.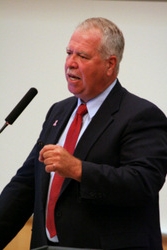 "What you do today, what you do tomorrow, what you do every day and what you do in the workplace, those ideas are what will truly mold the future of our profession. You've done a lot to reach this point, but the journey has just begun and the opportunities are endless," he said.
Gordon Eggers, Jr., PA-C, MPH, president and chief executive officer of Crusader Community Health, a nonprofit clinic, presented the keynote address.
He stressed that students need to be lifelong learners, intellectually sharp, and emotionally mature to succeed.
"There are no shortcuts to success; it's not a straight road," Eggers said. "Don't take yourself seriously, take your work seriously."
He concluded by reminding students to wear the white coat with "humble pride."
Van Rhee led the Class of 2014 in the recitation of the Physician Assistant Student Oath before faculty advisors bestowed each new member of the PA Program with their first white coat. A reception followed for friends, family, and faculty.