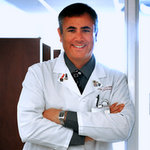 On June 15, Donald Lloyd-Jones, MD, ScM, preventive medicine chair, will become the new director of the Northwestern University Clinical and Translational Sciences (NUCATS) Institute and senior associate dean for clinical and translational research at the medical school. He will replace Philip Greenland, MD, who decided in May to step down from the post.
"I am extremely excited about my new role, and even more eager and humbled to be working with an institute that has effectively transformed the way Northwestern University does clinical and translational research," Lloyd-Jones said.  "With this incredibly strong foundation, I look forward to working on the next chapter of NUCATS."
Lloyd-Jones joined Northwestern University Feinberg School of Medicine as an assistant professor in 2004 before becoming an associate professor in 2007 and chair of preventive medicine in 2009. His research has resulted in more than 180 publications, including a recent article in the New England Journal of Medicine on the Lifetime Risks of Cardiovascular Disease.
Recruited to Feinberg by Greenland, Harry W. Dingman Professor of Cardiology and founding director of NUCATS, Lloyd-Jones credits his predecessor with establishing a climate of opportunity for clinical and translational researchers at Northwestern.
"It was his vision and leadership that brought NUCATS into being and revolutionized the research and collaborative infrastructure at Northwestern," Lloyd Jones said. "I congratulate Dr. Greenland on his amazing, enduring work, and wish him the best of luck in his continued research on cardiovascular disease."
Lloyd-Jones earned his MD from Columbia University College of Physicians and Surgeons and a master of science degree in epidemiology from the Harvard School of Public Health. He was an intern and resident in internal medicine at Massachusetts General Hospital (MGH) in Boston, where he also served as chief medical resident. After his cardiology fellowship at MGH, he joined the staff as an attending cardiologist and was an instructor and then assistant professor of medicine at Harvard Medical School. He joined the National Heart, Lung, and Blood Institute's Framingham Heart Study as a research fellow in 1997 and became a staff research associate in 1999.
He is a fellow of the American College of Cardiology and the American Heart Association and was inducted into the American Society for Clinical Investigation in 2011. He is also a recipient of numerous teaching awards, including the Patterson Award for Teacher of the Year from the Department of Medicine and the Teacher of the Year from the division of cardiology at Feinberg.
Justin Starren, MD, PhD, associate professor in preventive medicine and medical social sciences, chief of the Division of Health and Biomedical Informatics and director of the Northwestern University Biomedical Informatics Center at NUCATS, will become deputy director of NUCATS.
Involved with the Clinical and Translational Science Award (CTSA) community since 2007, Starren has worked to strengthen the institute as a leader in bioinformatics medical research and development. NUCATS was launched in 2008 with a $30 million CTSA from the National Institutes of Health
"I look forward to taking on this role and working with Don, as well as getting to know the scientists and staff in the other centers," Starren said. "When I served as a grant reviewer for CTSA proposals, I was struck by the amount of emphasis that was placed on the ability of the CTSA to result in organizational transformation. It is abundantly obvious that NUCATS continues to fundamentally change both the process and culture of clinical and translational research at Northwestern."
Starren earned his MD from Washington University School of Medicine in St Louis, and his PhD in medical informatics from Columbia University. He has been at Feinberg since December 2010 and his current research focuses on new ways to make health care computing more useful.
Constituted in 2007 to support and promote clinical and translational research throughout the Northwestern University community, the NUCATS Institute consists of five primary centers, each focusing on a different aspect of clinical and/or translational research.
"Under the leadership of Drs. Lloyd-Jones and Starren, I am confident that the institute will continue to flourish and advance the translational research conducted at Northwestern," said Eric G. Neilson, MD, Feinberg's vice president for medical affairs and Lewis Landsberg Dean. "The NUCATS team is an invaluable resource to the medical school, offering faculty the support they need to facilitate new research collaborations."