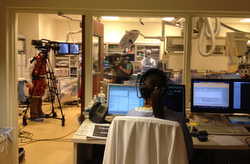 As one of the first medical centers to capture high-definition video feeds from an operating room and deliver them to a personal computer, videoconferencing at Northwestern University Feinberg School of Medicine is continuing to evolve.
Working to reduce the need for technology administrators at both ends of a broadcast, the departments of surgery and medicine have already broadcast a live surgery to students at Westinghouse College Prep High School, lectures on a smartphone, and a birth to an iPad in Iraq.
Shortly after arriving at Northwestern University Feinberg School of Medicine in 2004, Patrick McCarthy, MD, Bluhm Cardiovascular Institute director, made sure that multiple operating rooms were outfitted with the most-advanced recording equipment available. After years of technological innovation, he now uses videoconferencing each year for an alumni event that involves a didactic one day and a live-surgery broadcast the next. The use of multiple high-definition cameras, two-way audio communication, and real-time images from ultrasound or X-ray monitors, means that viewers can see and hear almost everything taking place in the OR.
"Cardiologists are used to seeing patients and images on a monitor, but they rarely get the opportunity to see what a heart valve looks like," said McCarthy, Heller-Sacks Professor of Cardiothoracic Surgery. "To be able to use small, auto focus cameras that give great images of the valve, is a great tool for education. Videoconferencing also gives the viewer a much deeper appreciation for the patient care that takes place."
Used routinely by doctors in the Department of Surgery, watching a live broadcast positions viewers inside the operating room without fear of adding bacteria to the equation. With one camera providing a wide view, a second, often times affixed to a light above the patient, shows an in-depth view of the surgical site. Images from monitoring equipment or a laparoscopic camera, in the case of minimally invasive surgeries, can also be added to the feed.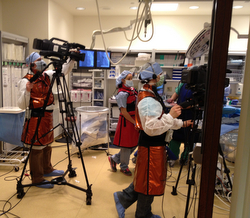 The addition of a dedicated videoconferencing room on campus three years ago in the Arkes Family Pavilion at Northwestern Memorial Hospital brought with it high-definition projectors, three 110-inch screens, and space for nearly 100 student or faculty members to watch surgeries. With operations taking place across the street, a moderator can take questions from the audience and interact with the surgeon during a procedure.
"We have broadcast around the world and back, from St. Petersburg to St. Paul, tripling the number of video and broadcast events over the past four years," said Frank Schleicher, information services director for the Departments of Surgery and Medicine. "But we also support a great number of educational events here and at off-campus affiliates."
With nearly half of gastrointestinal procedures today using laparoscopic cameras, the ability to transmit those images means audience members see the same images as the surgeon. The ability to broadcast a live surgery to a classroom at Westinghouse Prep on the city's west side, or to hundreds of people at a conference halfway around the planet, means the educational breadth of the technology is nearly limitless.
"We're just going to see more and more of this," said Nathaniel Soper, MD, Department of Surgery chair. "In the education arena this technology really helps. If you are trying to teach a technique, what better way to learn than to see an expert perform the surgery as they talk through what they are doing?"
Current technology allows departments of the medical center to capture events like grand rounds lectures, which discuss medical problems and patient treatments, and grant access to students at remote locations, or on their smart phones. The future holds the promise of live-capture techniques that will support a notepad for viewers to write questions to a surgeon while watching a procedure from a computer at home.
"We've used this technology for a number of different applications but by far and away the most common is for teaching purposes," Soper said. "The power of this is pretty incredible. We can transmit meetings to our colleagues in Lake Forest or procedures to first-year medical students interested in surgery."