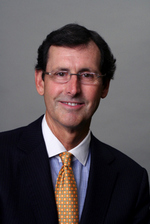 H. Huntington Batjer, MD, chair of the Department of Neurological Surgery and the Michael J. Marchese Professor of Neurosurgery, is leaving Northwestern University Feinberg School of Medicine after nearly 17 years of service. He is becoming the Lois C.A. and Darwin Smith Distinguished Chair in Neurological Surgery at the University of Texas, Southwestern Medical Center in Dallas.
"Dr. Batjer has been a thoughtful teacher and dedicated translational scientist, and his impact endures through the students and faculty whose medical careers he has enriched," said Eric G. Neilson, MD, Vice President for Medical Affairs and Lewis Landsberg Dean at Feinberg. "Having helped establish the Department of Neurological Surgery, Dr. Batjer has remained steadfast in his commitment to understanding cerebrovascular disease and his work serves as a template for future generations."
Arriving at Feinberg in 1995, Batjer was the fifth and final chief of the division of neurosurgery, before becoming its first chair in 1998 when it gained departmental status. Since that time, the program has grown in scope and stature, and now ranks among the nation's leading centers. A world-renowned surgeon, Batjer is president-elect of the Neurosurgical Society of America and is serving as co-chair of the National Football League Head, Neck and Spine Committee. Batjer's academic pursuits and research have resulted in more than 300 publications as well as five books and two major texts titled The Textbook of Neurological Surgery and Intracranial Vascular Malformations.
"During his time here, Hunt has created a department that rightfully maintains its place among the strongest in the nation," said Jack M. Rozental, MD, PhD, MBA, Interim Chair, Department of Neurology. "His years of leadership have resulted in a group of outstanding neurosurgeons who will continue to advance their surgical field here at Feinberg."
Batjer is an elected member of the American Academy of Neurological Surgery, the Society of Neurological Surgery, and the American Surgical Association, and is currently the chairman of the Board of the Interurban Neurological Society and a director of the American Board of Neurological Surgery. He also is past president of the Congress of Neurological Surgeons and Society of University Neurosurgeons and past chair of the American Board of Neurological Surgery.
After completing his undergraduate studies at the University of Texas in Austin, Batjer earned his MD at Southwestern Medical School, where he continued in the neurosurgical residency program. He pursued fellowship training at The National Hospital-Institute of Neurology at the University of London and then at the University of Western Ontario in Canada. Returning to Southwestern Medical School, he rose through the academic ranks, becoming professor in 1993, before coming to Feinberg.
"The strength and success of the Department of Neurological Surgery is in large part due to his dedication as a teacher and a surgeon; you couldn't have a better colleague than Hunt Batjer," said Nathaniel Soper, MD, Department of Surgery chair and Loyal and Edith Davis Professor of Surgery. "We will miss Hunt, but the field of neurological surgery benefits regardless of where in the country he operates."
Dr. Batjer will leave for his new position on September 1, 2012. A national search for the next department chair will begin shortly.