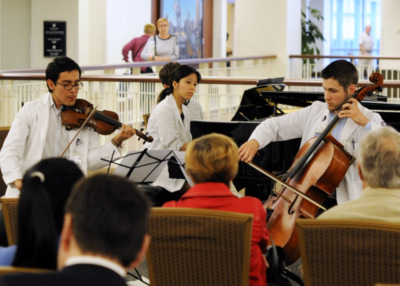 Felix Mendelssohn's Piano Trio No.1, Op. 49 filled the second floor of the Feinberg Pavilion at Northwestern Memorial Hospital (NMH) on the afternoon of May 23.  Three first-year medical students, Paul Jansson, Andres Camacho, and Jessica Shim, performed the piece along with Après un Rêve by Gabriel Fauré as part of a citywide "Pianos in Public Spaces" event, sponsored by the Chicago Symphony Orchestra.
"When we found out the Chicago Symphony Orchestra was bringing a Steinway into the hospital, we knew we had to play," Camacho said.
Listen to a clip of their performance.
President of the student group Musicians in Medicine, Camacho has a history of bringing music to the medical school campus. He has successfully arranged performances by musicians from the Roosevelt University conservatory at Prentice Women's Hospital and the Rehabilitation Institute of Chicago.
Playing violin since the age of seven, and eventually picking up guitar, piano, and percussion, he said, "I enjoy the opportunity to bring music to the hospital because I think it can have a significant – even healing – effect on patients."
The trio has played together at a number of medical school events, and they rehearse on an upright piano donated by the hospital and located in the medical student lounge.
"People don't typically anticipate hearing music when they are at the hospital, and they are pleasantly surprised when they unexpectedly encounter musicians playing," said Jansson, who started playing cello at the age of five.  "Often they are distracted or worried about something, and they really appreciate the opportunity to relax and simply enjoy the music."
Shim reflected that the experience was relaxing and enjoyable, and nothing like the concert stage. She has been playing piano since she was five years old.
"I enjoy being given opportunities to play an instrument that I love. I also love performing in groups – chamber music is one thing that I've always done," she said.  "This experience was relaxing and enjoyable, nothing like the concert stage.  It was nice to see patients, physicians, and the familiar faces of my colleagues stop by and listen to us play."