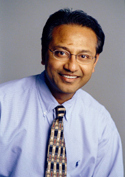 When Debu Chakravarti, PhD, associate professor in reproductive biology research, arrived at Northwestern University Feinberg School of Medicine in 2005, his leadership in basic sciences was a boon to the Robert H. Lurie Comprehensive Cancer Center.
Since that time, he recalls many fundamental research conversations with colleagues, graduate students, and postdoctoral fellows that slipped into an exchange of ideas on the role of science in saving lives. Those discussions of translational approaches led him, and postdoctoral fellows J. Brandon Parker and Santanu Palchaudhuri to begin analyzing and characterizing members of a novel protein family, looking into their ability to regulate cell growth and cancer progression in hopes of finding a way to slow cancer in the human body.
His  research, published in the first May edition of Molecular and Cellular Biology, revealed that THAP11, one of 12 proteins in the family, stood out as being overexpressed in human colon cancer cells.
"We have used cell- based assays to demonstrate that THAP11 is a novel regulator of colon cancer cell proliferation which may explain why it is upregulated in human cancer samples," Chakravarti said. "We envision downregulation of THAP11 by chemical and biological means may provide a new therapeutic target."
Although the roles of Thanatos-associated proteins (THAPs) in human cancers remain largely unknown, Chakravarti's research of THAP11 as highly expressed in colon cancer has established it as a vital component in the disease.
"We feel that our basic science-oriented research has clinical and translational implications in both understanding and future treatments of cancer," Chakravarti said. "Our analysis of hundreds of human colon cancer samples clearly shows that THAP11 overexpression is strongly linked to disease progression."  
A major health problem, cancer will kill an estimated 575,000 Americans this year, with colon cancer the third most-common cause of cancer-related death in men and women.
Currently working to develop an animal model to explore whether THAP11 is critical for primary tumors or the spread of the disease, Chakravarti's lab has found that when THAP11 is knocked down in colon cancer cells, the cells grow at a slower rate. 
The discovery by researchers at Baylor College of Medicine in Texas that THAP11 is necessary for stem cells to develop into any type of cell, and that little but measurable amounts of THAP11 are expressed in a normal human colon, reveal that that the protein is necessary for life.
"We are cautiously optimistic that THAP11 could be targeted for therapeutic purposes," Chakravarti said. "However, this is a newly identified protein and we need to understand what this protein does. Therefore, fundamental molecular analysis of the protein's function is critical for future targeting of THAP11 in cancer intervention."
Chakravarti's research was supported by grant R01 CA133755 from the National Cancer Institute of the National Institutes of Health.