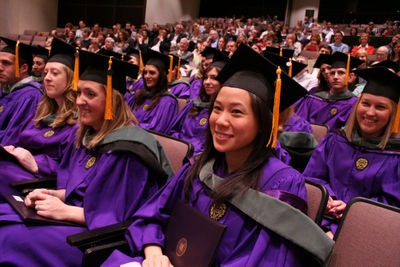 As members of the inaugural class of Northwestern University Feinberg School of Medicine's Physician Assistant (PA) program, students in the Class of 2012 are a part of the medical school's history.
On the second Saturday in May, they marked another milestone – the PA program's first graduation. One by one, each student's name was read, hoods were bestowed, and degrees were earned as part of a commencement ceremony inside Thorne Auditorium.
"As the first class, we have taken a great deal of pride in setting the bar high for future classes," said Brian Filippini, MMS '12. "The program is very challenging and requires a lot of hard work, but in the end, it did a great job of preparing us for our futures in health care."
Alongside 29 others, Filippini earned his master of medical science degree after one year of classroom instruction and one year of clinical rotations. Developed in 2010 with support from Northwestern Memorial Hospital, the program uses problem- and team-based learning as the centerpiece to the curriculum.
Saturday's ceremony offered many moments of celebration, and marked a step toward board certification, job interviews, and an exciting career in medicine.
"It was nice to see the hard work of our faculty, staff, and, most importantly, the students, be celebrated after two years of rigorous work," said James Van Rhee, MS, PA-C, PA program director. "One of our graduates is likely to become one of the first PAs at Ann and Robert Lurie Children's Hospital of Chicago. As the healthcare landscape changes, this program will continue to train students to fill crucial needs."
Lewis Landsberg, MD, Irving S. Cutter Professor of Medicine and dean emeritus at the medical school, who was instrumental in launching the program, was honored as the inaugural commencement speaker.
Landsberg's desire to have a PA program at Northwestern was solidified in 2006 while serving as a visiting professor at Yale and having the opportunity to observe the outstanding side-by-side working relationship between physicians and PAs.
"We believe that a PA program enables us to develop a cadre of well trained, bright young people that can be incorporated into our medical practices and position us to take advantage of the team concept as the changes in medical practice unfold," he said. "Being a PA adds value, both to patients and society, and being a PA has the potential for enormous personal and professional growth."
PAs are health professionals who practice medicine as members of a team with their supervising physicians. As part of their comprehensive responsibilities, PA's conduct physical exams, diagnose and treat illnesses, order and interpret tests, counsel on preventive health care, assist in surgery, and prescribe medications.
Members of the Class of 2012 include six men and 24 women. They hail from 23 states and boast 20 undergraduate majors, from biology and chemistry, to history and nuclear medicine technology. Collectively, the graduates speak nine different languages, including Greek, Malayalam, and Marathi.
"I think the problem-based learning (PBL) curriculum really sets Northwestern apart from other programs," said Margaret Wilson, MMS '12. "Medicine is ever changing and knowing how to find information and synthesize it quickly is critical; it won't always be presented to you in a tidy lecture. PBL also teaches you to be comfortable admitting what you don't know."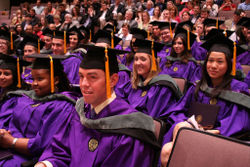 Wilson, who delivered the student message near the conclusion of commencement, took time to thank faculty who made the PA program both challenging and rewarding.
"People are a summation of combined influences and I want to thank our faculty and preceptors who've taught us how to listen to a heartbeat, how to interpret an x-ray, and how to prevent and treat disease," she said. "But most importantly, you've also taught us how much we still have yet to learn."
A division of the Department of Family and Community Medicine, the PA program accepts 30 students each June. Seven hundred hopefuls applied for the Class of 2013, and 1,600 hoped to be a part this year's incoming class.