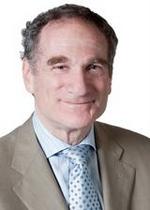 John "Jack" Kessler, MD, Ken and Ruth Davee Professor of Stem Cell Biology, has completed his administrative service as chair neurology at Northwestern University Feinberg School of Medicine—an era that is full of accomplishment, and will return fulltime to his important laboratory research and academic life at the medical school. Jack Rozental, MD, PhD, has been appointed interim chair of the department while the school begins a national search for Kessler's successor.
A pre-eminent name in stem cell biology for more than a quarter-century, Kessler has worked to advance the potential of stem cell research for the past decade at Northwestern, has co-authored more than 200 published articles, and has served on numerous scientific advisory panels. He also helped establish the Human Embryonic and Induced Pluripotent Stem Cell Facilityand served as director of the Northwestern University Stem Cell Institute and the Feinberg Clinical Neuroscience Institute.
"Jack's personal dedication and impact in the area of stem cell research is without equal," said Eric G. Neilson, MD, Vice President for Medical Affairs and Lewis Landsberg Dean at Feinberg. "His research will continue to guide new discoveries in stem cell biology. Jack also built a fine Department of Neurology with a large and loyal group of faculty and residents who have benefited from his mentorship and interest in their academic careers—few have done it better, for which we all are grateful. We fully anticipate Jack will continue to advance his research interests in neuroscience at Feinberg and further distinguish his leadership as a senior member of the department."
A pioneer in the field of regenerative neurology, early work in Kessler's 35 year career focused on the basic biology of neural growth factors, where he made fundamental contributions to the understanding of how they regulate the development of the nervous system. He became one of the early investigators of the biology of neural stem cells, and his seminal observations helped further research opportunities in the field. An expert in spinal cord regeneration, Kessler has also collaborated with Northwestern's Institute for BioNanotechnology in Medicine to combine nanotechnology with stem cell biology.
After completing his undergraduate studies at Princeton University, Kessler earned his medical degree at Cornell University Medical College in 1971. Before joining Northwestern as the neurology chair in 2000, Kessler served on the faculty of Cornell and Albert Einstein College of Medicine in New York.