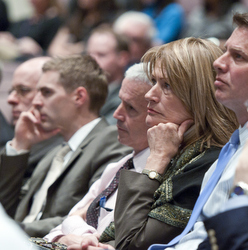 It's more than an identity; it's a commitment to our community, our physicians, our staff, and our students. That was the message delivered by Eric G. Neilson, MD, Northwestern University Feinberg School of Medicine vice president for medical affairs and Lewis Landsberg Dean, and Dean M. Harrison, president and chief executive officer of Northwestern Memorial HealthCare, during the first-ever, jointly presented update on Northwestern Medicine®.
During the hour-long presentation, the two outlined the strategy and vision that will guide Northwestern in its pursuit of becoming a top academic medical center.
"We are all in this together, and we only truly succeed when we help each other get better and stronger," Neilson said, before an audience of more than 600 on Tuesday, April 3.
"As Chicago continues to grow and people desire care near their homes and places of employment, the Northwestern Medicine plan must grow to serve high-quality, evidence-based care in those locations as well," Harrison said.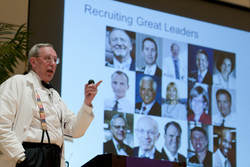 The town-hall style presentation, which included video segments highlighting the vision of Northwestern Medicine and the people behind that vision, also included a question-and-answer segment following Neilson's and Harrison's remarks.
"The greatest thing that I saw was the collaboration between both organizations in a common vision for growth," said Matt Flynn, chief financial officer and vice president of Northwestern Lake Forest Hospital. "I saw a clear path, and I think at the core of being an outstanding academic medical center is having a great vision."
Ranked No. 18 in the U.S. News & World Report listing of top research-oriented medical schools in the country, Feinberg boasts 11 departments in the top 25 of National Institutes of Health funding, and five in the top 10. With the highest number of nationally ranked clinical specialties in Illinois, Northwestern Memorial has maintained its place as the No.1 hospital in the Chicago metro area.
In the years ahead, construction will improve its size, scope, and capabilities in Chicago while also expanding exceptional care coverage to patients north and west of the city. With 150 acres of space on the Northwestern Lake Forest campus and the addition of a new downtown outpatient facility to be completed in 2014, the expansion of care is matched by a three-phase plan to renovate lab space and the building of a new research pavilion that should generate tens of millions of dollars in new research funding.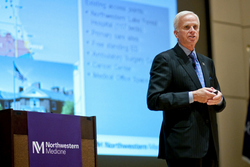 With great leaders and nationally renowned scientists, the medical school continues to attract a diverse student base and expose them to educational opportunities that result with one in two matching at a top-25 residency program. And by developing the people, culture, and resources needed for success, Northwestern Medicine is positioning itself to make a significant impact in the areas of research, education and clinical care both locally and nationally over the next decade.
"It was an exciting opportunity to have both leaders hold an audience, and I think what that represented was very meaningful and it epitomized what Northwestern Medicine is going to be going forward," said Erica Marsh, MD, assistant professor in obstetrics and gynecology. "Going from a wonderful concept to a meaningful new icon that is going to represent this academic medical center is going to take a lot of work and a lot of resources and I hope we stick with it and make it happen."