Internationally known for her research on the mechanisms of birth defects, Patricia Donahoe, MD, professor of surgery at Harvard Medical School and director of the pediatric surgical research laboratories at Massachusetts General Hospital, presented the 16th annual Distinguished Women in Medicine and Science Lecture at Northwestern University Feinberg School of Medicine on Thursday, March 22.
The afternoon lecture, "Reproductive Development Instructs Treatment Strategies for Reproductive Cancers," was part a visit to campus that included a lunchtime talk and opportunity for Donahoe to mentor some of the junior faculty members at the medical school. The event is hosted annually by the Northwestern Medical Women Faculty Organization (WFO).
"Mentoring is an incredibly important part of my life," said Donahoe, who has trained more than 100 fellows, many of whom have gone on to significant academic careers. "To me, it's one of the most exciting things I do. To have watched people like Neena Schwartz, PhD, and Teresa Woodruff, PhD, mentor young researchers throughout their careers has been great."
Donahoe joins Schwartz, professor emeritus in neurobiology, and Woodruff, Institute for Women's Health Research director, in the line of renowned scientists to have delivered the Distinguished Women in Medicine and Science Lecture since 1997.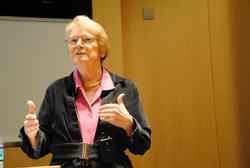 Joy Derwenskus, DO, assistant professor in neurology, co-chair of the WFO, thanked Donahoe for her work as a mentor and welcomed the students, staff, and faculty inside Baldwin Auditorium at the Robert H. Lurie Medical Research Center.
William Lowe, MD, vice dean of academic affairs, welcomed Donahoe on behalf of Feinberg before discussing the opportunities that lie ahead for female faculty members on campus. In the past decade, Lowe said, the medical school has been successful in increasing the percent of female faculty by more than 10 percent, while continuing to provide opportunities for career advancement.
In her introduction, Woodruff explained the impact Donahoe has had on female scientists like herself. By moving research beyond her lab and into the public forum, Donahoe consistently published findings at a rate that made a real impact in the world, Woodruff said.
During the lecture, Donahoe discussed her focus on the genetics of birth defects, and her hypothesis that major congenital anomalies are the result of genetic mutations that will reveal molecular pathways for new therapies.
"Mullerian Inhibiting Substance (MIS) is a tumor suppressor and is a novel treatment for cancers in the reproductive tracts," Donahoe said of the substance that directs the development of male reproductive organs in the fetus by causing regression of the female reproductive ducts and their receptors. "We are pursuing MIS with ovarian cancer, but there are likely to be applications in cervical and even prostate cancer."
Donahoe received her MD from Columbia University in New York and BS from Boston University, where she currently serves on the Board of Trustees. She is the president of the New England Surgical Society and is the recipient of the Department of Defense Lifetime Achievement Academy Dean Award. She has also published more than 270 peer-reviewed publications in developmental biology.
The Distinguished Women in Medicine and Science Lecture at Feinberg is an annual medical school tradition awarded in alternating fashion to faculty at Northwestern and across the nation. It was started in memory of Carolyn Brent, MD, who founded of the WFO in 1992.