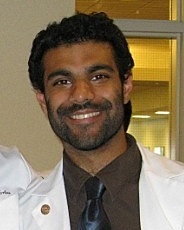 It's a discussion on the future of medicine that has one Northwestern University Feinberg School of Medicine student taking part in a reflection of its past. Nearing two centuries of publication, the New England Journal of Medicine (NEJM) announced it was hosting a 200th anniversary symposium, with a block of tickets awarded to the winners of a special essay contest.
Rahul Ganatra, an MD/MPH student, started writing. Five-hundred words later, he had composed an award-winning essay that discusses social networking as a tool in health care.
One of 30 NEJM Gold Scholars, Ganatra will attend the anniversary symposium on June 22 in Boston. Open to college students interested in health professions, medical students, and post-graduates enrolled in training programs, essay entrants were asked to discuss how the Internet and social networking could be harnessed to improve health. Ganatra'a essay, in which he wrote about using social networking to help patients lose weight, exercise more, and quit smoking, grew out of a desire to address behaviors that have huge consequences.
"Throughout my medical education I have been struck by how often patients and physicians look to the leading edge of technology to solve problems in health care," Ganatra said. "The challenge is to find effective ways to help people make healthy behavior changes while taking their unique circumstances into account. In my essay, I describe a model for leveraging social capitol that exists in small groups of close-knit individuals to promote positive behavior change."
Currently in Atlanta as a fellow in applied epidemiology with the Influenza Division at the Centers for Disease Control and Prevention (CDC), Ganatra is engaged in epidemiological research and influenza surveillance across the country, and occasionally gets the opportunity to take part in outbreak investigations in the field
"On my first day of work at the CDC I was sent with a team of epidemiologists to investigate an outbreak of a novel H3N2 swine influenza virus in Pennsylvania," he said.  "We were in the field for three weeks and interviewed hundreds of people to identify common exposures, assess disease severity, and determine if human-to-human transmission had occurred. It was very exciting, to say the least."
Although his time with the CDC has been stimulating, Ganatra looks forward to returning to Feinberg this summer for the start of his fourth year.
"I am working with the Program in Public Health to lay the groundwork for a new student-run journal that will publish its first issue in the fall," he said. "Our goal with this is to increase the visibility of public health on campus and create a forum for tapping into the wealth of public health experience and expertise at Northwestern."