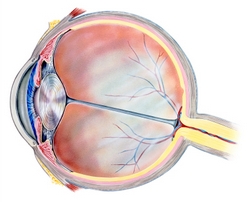 Research to Prevent Blindness (RPB) has awarded a grant of $100,000 to the Department of Ophthalmology at Northwestern University Feinberg School of Medicine to support research into the causes, treatment, and prevention of blinding diseases. The research will be directed by Nicholas J. Volpe, MD, George and Edwina Tarry Professor of Ophthalmology and chairman of the Department of Ophthalmology.
"Our ophthalmology investigative program at Feinberg is growing in the areas of basic, translational, and clinical research," says Volpe. "The power of the RPB grant is that it provides the department with unrestricted funds to support various research projects at the chair's discretion. With this grant the department is able to provide start up for small projects, initiate bridge funding for ongoing research, facilitate collaborations, and invest strategically in research areas that are novel and not easily funded."
Ophthalmology is a branch of medicine specializing in the anatomy, function, and diseases of the eye. The department's basic science research focuses on how the retina works through studies of retinal development and synapse function. Recent advances in the understanding of retinal function and cell biology have led to different approaches at Feinberg that show potential for restoring vision in the blind, such as gene therapy and electrode implantation. The department intends to expand regenerative medicine research activities, particularly its stem cell program.  Other current important research areas include: the role of nerve growth factors in the pathogenesis of glaucoma; pediatric eye disease; clinical outcomes research; and comparative therapies across the ophthalmic specialties. 
Beyond basic science research, the department of Ophthalmology maintains a robust clinical trials program to investigate diabetic retinopathy, macular degeneration, and glaucoma.  Volpe plans to expand into trials involving ocular inflammatory disease. Areas of future research include development of ocular imaging techniques for age-related macular degeneration and new methods of drug delivery to the eye for macular degeneration.
Department of Ophthalmology faculty members at Feinberg practice at Northwestern Memorial Hospital, Children's Memorial Hospital, and Jesse Brown VA Medical Center, all affiliates of the McGaw Medical Center of Northwestern University. Research is conducted at Northwestern University's downtown Chicago campus.
RPB is the world's leading voluntary organization supporting eye research. To date, the organization has awarded grants totaling $2,470,000 to Feinberg.