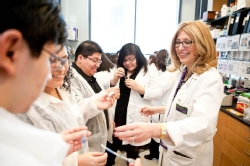 The Northwestern University science mentoring program recently honored by President Barack Obama graduated 31 Chicago high-school girls on Saturday, Feb. 18 at the Robert H.Lurie Medical Research Center.
The mentoring program, Saturday Oncofertility Academy, offers primarily African American and Latina girls from disadvantaged backgrounds the chance to research and conduct experiments in fertility and cancer research with scientists and doctors at state-of-the-art Northwestern facilities. It inspires and prepares the young women to go to college to pursue careers in science and medicine.
"Our goal is to train the next generation of female leaders in science and medicine," said Teresa Woodruff, PhD, program founder and the Thomas J.Watkins Professor of Obstetrics and Gynecology at Northwestern University Feinberg School of Medicine. Woodruff also is director of the Institute for Women's Health Research at the medical school. Graduates of the mentoring program have gone on to pursue a variety of science and health-related career paths.
This year is the first time that the program has been open to girls from all Chicago Public Schools. Previously, it was only available to students at Young Women's Leadership Charter School.The Oncofertility Saturday Academy, a six-week program over two years, is part of the Women's Health Science Program for High School Girls and Beyond, sponsored by the Institute for Women's Health Research at Northwestern's Feinberg School. In addition to the oncofertility program, the young women can study at Northwestern academies in cardiology, physical science, and infectious disease.  The program has become a national model, inspiring similar education programs in other cities.
Woodruff recently received the prestigious Presidential Award for Excellence in Science, Mathematics, and Engineering Mentoring from President Obama. The White House award recognized the crucial role mentoring plays in the academic and personal development of students studying science and engineering, particularly those who belong to groups that are underrepresented in these fields.
Woodruff, a reproductive endocrinologist, researches female reproductive health and infertility and is chief of the division of fertility preservation at Feinberg. She also leads the Oncofertility Consortium, a national a team of oncologists, fertility specialists, social scientists, educators, and policymakers to translate her research to the clinical care of women who will lose their fertility due to cancer treatment. In addition, she has been an advocate for sex and gender inclusivity and study in basic science, translational studies, and clinical trials.
In addition to Young Women's Leadership Charter School, the city's only all-girls public school, and Northwestern's Institute for Women's Health Research, Oncofertility Saturday Academy also is sponsored by the University's Center for Reproductive Science and The Alumnae of Northwestern University.