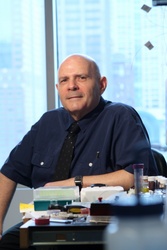 Samuel Stupp, PhD, professor in Medicine, has been elected to the National Academy of Engineering (NAE), one of the highest professional distinctions accorded in the engineering field.
Renowned for his research in regenerative medicine, Stupp is cited for advances in processes of self-assembled polymers for biomedical applications.
The director of the Institute for BioNanotechnology in Medicine (IBNAM), Stupp conducts research to better understand the relationship between supramolecular structures on the nanoscale and the functions of materials. His research has focused on molecular self-assembly strategies to create highly-functional materials of interest in widely varying fields, ranging from regenerative medicine to electronics. He holds appointments at Northwestern University Feinberg School of Medicine, McCormick School of Engineering, and Weinberg College of Arts and Sciences.
He has developed novel materials to promote regeneration in the central nervous system, which could impact therapies for spinal cord injury and Parkinson's disease. He also has developed new materials for the regeneration of bone, cartilage, and blood vessels. Other work includes the use of self-assembly to create electronically active materials, with a focus on energy technologies.
A member of the American Academy of Arts and Sciences and a fellow of the American Physical Society and the Materials Research Society, Stupp has received many awards and honors in his career. They include a Department of Energy Prize for Outstanding Achievement in Materials Chemistry; the American Chemical Society Award in Polymer Chemistry; the Materials Research Society Medal; and the Humboldt Award for Senior U.S. Scientists. In 2005, Scientific American named Stupp one of 50 "Leaders Shaping the Future of Technology."
On Wednesday, February 15, Stupp was honored by the medical school at a reception hosted by Eric G. Neilson, MD, vice president for medical affairs and Lewis Landsberg Dean.
McCormick professor Tobin Marks was also elected in this year's NAE class. Marks, Vladimir N. Ipatieff Professor of Catalytic Chemistry and Professor of Materials Science and Engineering, is a world leader in the understanding and development of new catalysts that enable the production of recyclable, environmentally-friendly, and sustainably-produced plastics and elastomeric materials.