Poster Session Highlights Global Health Experiences of Northwestern Students
At the Global Health Poster Session, M2 Shauna Gunaratne won first place for her poster, "Postpartum Family Planning: Programmatic Gaps and Issues," which detailed her experience in Geneva, Switzerland, at the World Health Organization.
The Center for Global Heath at Northwestern University Feinberg School of Medicine held its first annual poster session on September 7. Thirty-five students presented nearly 20 posters with abstracts, detailing their lessons learned following voluntary medical education programs and supervised clinical rotations at healthcare institutions across the globe – in countries such as Uganda, South Africa, and Ecuador.
"By offering Northwestern students the opportunity to share their diverse work, we hope that they will provoke an interest in their peers," said Daniel Young, MPA, associate director, Global Health Education. "Our first event generated connections among the presenters and attendees and featured impressive projects focused on public health issues, rural healthcare delivery, cross-cultural competency and communication, and more."
Along with Young and Robert Murphy, MD, John Philip Phair Professor of Infectious Diseases and director of the Center for Global Health, second-year medical student Victor Roy – founder of GlobeMed a non-profit organization that pairs university students with grassroots health initiatives – encouraged first-year students to learn from the experiences of their elder classmates.
"Feinberg students have a strong interest in global work; we take action on health issues facing citizens around the world," said Roy, who serves as chair of the newly developed Student Advisory Committee on Global Health.
Posters were judged and prizes were awarded for exceptional work in global health. Honors went to:
First place: Second-year medical student Shauna Gunaratne for her poster, "Postpartum Family Planning: Programmatic Gaps and Issues" (worked with the World Health Organization in Geneva, Switzerland)
Second place: Second-year medical students Sarah Chuzi, Alexandra Goodwin, and Natsai Nyakudarika for their poster, "Global Health in Uganda: An Experience within Makerere University's Community-based Education and Service (COBES) Program" (worked with Makerere University in Kampala, Uganda)
Third place: Victor Roy for his poster, "'Accompaniment' as a Primary Care Strategy for Rural Liberia" (worked with Tiyatien Health in Liberia)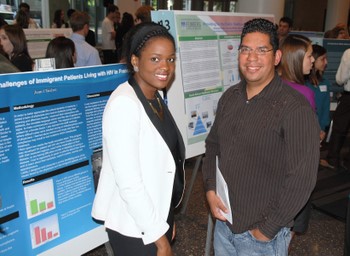 (L-R) Joan Tankou and John Bostick reviewed Tankou's poster, "Psychosocial Challenges of Immigrant Patients Living with HIV in France." The second-year medical students discussed how programs implemented in the infectious disease department of Hopital Avicenne in Paris could provide solutions to similar cultural barriers faced in Chicago hospitals.
At the event, second-year medical students Carolynn Price, Matt Rowland, and Laura Eder showcased their poster, "Clinical Shadowing and Community-based Malaria Prevention in Uganda." The project outlined the students' findings after spending six weeks this past summer rotating among the clinical wards of Mulago and Kayunga Hospitals in Kampala, Uganda.
"Uganda is infinitely more impoverished than even the more deprived areas of the U.S.," said Rowland, comparing the conditions to those he experienced on an Alternative Spring Break trip to Eagle Butte, S.D., which sits within Dewey County, part of the Cheyenne River Indian Reservation and the poorest county in the United States. "We gained a new perspective for operating a medical system that lacks the basic resources we are so lucky to have here at Northwestern."
The event was co-sponsored by the Center for Global Health, the Feinberg Student Advisory Committee on Global Health, and the Global Health Initiative at Chicago Lake Shore Medical Associates.