Founders' Day Celebrates Opening of 2011-12 Academic Year, Welcomes 'Doctors of Tomorrow'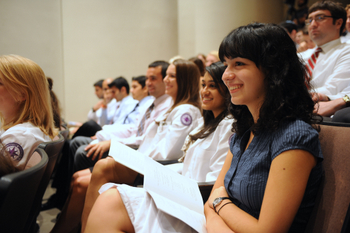 The 2011 Founders' Day Convocation on August 26 kicked off Feinberg's 153rd academic year and officially welcomed the Class of 2015.
After a week of introductions and team-building activities, the Northwestern University Feinberg School of Medicine 2011 Founders' Day Convocation on August 26 served as the official welcome for first-year students from the Class of 2015.
The new class comprises 176 Doctor of Medicine (MD) candidates. Thirteen students are entering in the Medical Scientist Training Program and will receive both MD and PhD degrees. Fifteen students will pursue MD/Master of Public Health (MD/MPH) degrees and two will pursue a combined MD/Master of Arts in Medical Humanities and Bioethics (MD/MA).
Interim Dean Jeff Glassroth, MD, congratulated the student body on their achievements to date and welcomed them and their families to the Northwestern family.
"We are delighted that you have chosen to pursue a career in medicine," said Glassroth before introducing the students to the faculty and administrative leaders who will help to guide their journey. "You are a talented group of individuals who will help to write the story of Feinberg's future."
Glassroth turned the microphone over to Northwestern University President Morton O. Schapiro, who offered a few introductory remarks that reminded students to embrace every moment of their medical school experience. Later, Teresa K. Woodruff, PhD '89, the Thomas J. Watkins Memorial Professor of Obstetrics and Gynecology, chief of the Division of Fertility Preservation, and director of the Institute for Women's Health Research (IWHR), presented the event's keynote address.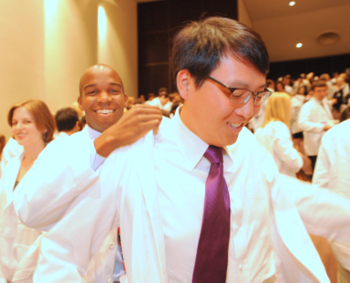 (L-R) As part of the ceremony, second-year student Travis Sims adorns first-year student Raymond Zhang with his first white coat — symbolic of his admission into the Northwestern medical community.
In her talk, "Translation in Multiple Dimensions," Woodruff told the story of her path to discovering Oncofertility, a new field of study that brings together specialists from areas like oncology, bioethics, and law to provide fertility options for cancer patients. To achieve breakthroughs and become a leader in medicine, she offered students three pieces of advice: create your opportunities; use your team to accelerate the pace of your work; and maintain optimism when solving seemingly intractable issues.
"As medical students at Feinberg – the doctors of tomorrow – you will be equipped to tackle the most challenging problems of our day," Woodruff said. "We are counting on you to become the thought leaders and doers of the 21st century. Go beyond what is expected to what is needed, what is right, and what is good."
Founders' Day also served as the backdrop for bestowing numerous honors on faculty who left a positive impression on Feinberg students and leadership during the previous academic year. Raymond H. Curry, MD, vice dean for education, led the presentation of awards, including the Dean's Awards for Teaching Excellence, which went to:
George H. Joost Awards for Teaching Excellence honored four faculty, including:
Michael M. Ravitch Outstanding Teacher Awards went to:
Lenore F. Soglin, MD, assistant professor of medicine, received the 2011 American Medical Women's Association (AMWA)/Gender Equity Award. Second-year medical students Mindy Hoffmann and Silvia McCandlish, co-presidents of Feinberg's AMWA chapter, presented Soglin with the award, recognizing her career-long advocacy for the prevention of intimate partner violence against women.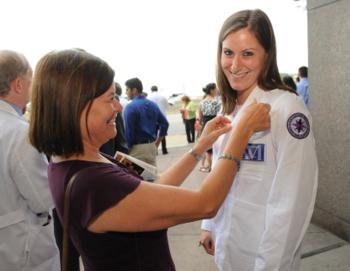 The event proved particularly special for Sharon Unti, MD '82, associate professor of pediatrics at Feinberg (left), whose daughter Kristen Unti (right), a first-year medical student, followed in her footsteps through the Honors Program in Medical Education.
Class of 2013 student Paul Bottone, president of the Medical School Student Senate, handed out the M2 Student Senate Service Awards to fellow medical students Ana Agarrat, Chelsea Berdahl, Alex Friedman, Mania Kupershtok, and Erin Schifeling. Bottone also introduced the new class to the student-generated Student Conduct Code.
To close the ceremony, Interim Dean Glassroth led the white coat ceremony, directing second-year students to assist their first-year "little siblings" in adorning their first white coat — symbolic of their admission into the medical community. Finally, the Class of 2015 recited the Declaration of Geneva. By reading these words, also referred to as the Physician's Oath, students promised to "practice [their]profession with conscience and dignity and maintain the utmost respect for human life."
"Being a physician is a rare privilege that carries substantial responsibility," Glassroth told the incoming class. "We should all be altruistic in our work and dedicated to the health of our patients and community."