Feinberg's CCARES Helps Amend Illinois Good Samaritan Act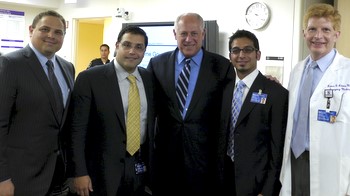 Feinberg faculty joined Illinois Governor Pat Quinn on the Chicago campus July 18 to commemorate an amendment to the state's Good Samaritan Act. (L-R) John Vozenilek, III, MD, George Chiampas, DO, Governor Pat Quinn, Amer Aldeen, MD, and James Adams, MD, all support the effort to train individuals in hands-only cpr.

Illinois Governor Pat Quinn joined members of the Northwestern Medicine community on July 18 to commemorate an amendment to the state's Good Samaritan Act. The official signing

of House Bill 1549 took place in the Simulation Technology and Immersive Learning Center at Northwestern University Feinberg School of Medicine.
"Citizens who have been trained in cardiopulmonary resuscitation (CPR) should not be afraid to use their training to help another person in an emergency," said Quinn. "CPR saves lives, and we want those who are able to, to step up and help their fellow citizens in a crisis without fear of a lawsuit. This law protects good Samaritans and will protect lives."
Effective immediately, the revised act protects not only certified rescuers, but also individuals who possess minimal CPR training in accordance with either American Red Cross or American Heart Association (AHA) standards. Current training methods focus on hands-only CPR, which increases the chance of survival by two to three fold. Instead of ventilation or mouth-to-mouth techniques, hands-only CPR involves solely chest compressions.
Ten months ago, Feinberg emergency medicine assistant professors George Chiampas, DO, and Amer Aldeen, MD, created the Chicago Cardiac Arrest Resuscitation Education Service (CCARES), an organization focused on improving cardiac arrest survival in the city of Chicago. Since its launch, CCARES has worked closely with the Governor's Office, the Red Cross, and the AHA to alter the language in the Good Samaritan Act to reduce public confusion about who would be guarded from civil liability under the law.
"By championing this cause today, we hope to be leaders in our country and across the world," said Chiampas, also an emergency medicine and sports medicine physician at Northwestern Memorial Hospital. "The cost is zero, but the number of lives that can be saved is immeasurable."
With the support of the Feinberg simulation lab, CCARES creates educational videos that teach individuals from many organizations, including the Chicago Police and Fire Departments and the Chicago Area Runners Association, to act as a first responder and offer CPR.
"The message is simple: push hard and fast; 100 compressions per minute to the tune of the Bee Gees song 'Stayin' Alive,'" Chiampas said. "Minimal education is enough to teach people life-saving skills."