Alumni Weekend 2011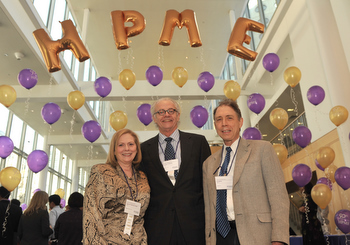 Members of the inaugural honors program in medical education class — (L-R) Drs. E. Allanah ruder, assistant professor in the division of Hematology/Oncology, wynne kearney, and Ira Weiss, associate professor in the division of cardiology — joined fellow alums to celebrate the program's 50th anniversary at alumni weekend 2011.

Members of the Class of 1961 retired their short white lab coats 50 years ago, yet 24 of these Northwestern University medical school graduates — along with almost 600 fellow alumni from other classes — came to Chicago April 28-May 1 to reconnect with old friends and learn about the future of Northwestern University Feinberg School of Medicine at Alumni Weekend 2011.
Alumni participated in guided tours of Chicago and the medical school campus, exploring new additions to the area, including the Nikon Imaging Center, the Ann and Robert H. Lurie Children's Hospital of Chicago, and the Simulation Technology and Immersive Learning Center. Class dinners and presentations on the state of the school

, advances in dermatology, and retirement preparation and estate planning, as well as a workshop focused on bioethics and biodefense, rounded out the menu of more than 30 events available to alums.
The weekend festivities also included a 50th anniversary celebration for the Northwestern University Honors Program in Medical Education (HPME). Alumni came to mingle with their former classmates and learn about the program's future goals. Current HPME Director Marianne Green, MD, offered a special welcome to those in attendance from the inaugural class, including R. Wynne Kearney, MD '67, BSM '65, E. Allanah Ruder, MD '67, assistant professor in the Division of Hematology/Oncology, and Ira Weiss, MD '67, associate professor in the Division of Cardiology.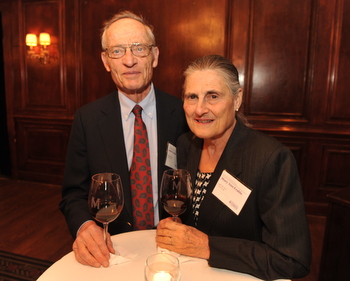 Alums like Drs. William and Mary Ann Frable, of Richmond, Va., who met as first-year medical students, enjoyed catching up with old friends and learning about the changes happening in medicine.

William "Jack" Frable, MD '59, GME '60, GME '64, of Richmond, Va., attended the reunion with his wife Mary Ann Frable, MD '59, GME '64, whom he met as a first-year and married days before their sophomore year began. The Frables caught up with classmate Lee Rogers, MD '59, former chair of radiology at Feinberg, and enjoyed breakfast with the student recipient of a merit scholarship in their name.
"We are members of the educational advisory board and came to hear an update on the curriculum renewal project," says Jack Frable. "We like to keep current on the scientific and political changes in medicine and feel that it's important to offer our perspective."
Alumnus Emanuel "Semmy" Semerad, MD '63, BS '60, of Inverness, Ill., was also interested in discovering the progress being made at Feinberg. Semerad, a retired orthopaedic surgeon, says that alumni weekend offered him the chance to learn about the spectacular things happening at the medical school.
"It's still so important to me that this medical school continuously produce the best doctors," Semerad says. "This is where I came from. I like to hear about the new programs that advance the school's missions."
Alumni were interested in both hearing from Interim Dean Jeff Glassroth, MD, regarding the future plans for the medical school, and also reflecting on the past.
Friends and orthopaedists Richard Dedo, MD '64, GME '69, of Hillsborough, Calif., Cliff Raisbeck, MD '53, GME '61, BA '50, of Sausalito, Calif., and Walt Huurman, MD '62, of Omaha, Neb., spent time reminiscing about their clinical experiences at Cook County Hospital and the Chicago Maternity Center, as well as recalling the look of the "old" campus.
"The first floor of the Ward Building used to be a free clinic," says Raisbeck. "We took care of a lot of patients there and gained a great deal of experience. In fact, when I began my internship training, I discovered that I was a full year ahead of my peers."
While alumni clearly maintain their affinity for Northwestern, Ginny Darakjian, assistant dean for alumni relations in the Office of Development and Alumni Relations, notes that the school also takes pride in the accomplishments of its alumni and their service to the school.
Presentations of the Distinguished Alumnus Award to Whitney Addington, MD '61, Dean's Award to Robert Vanecko, MD '61, professor in surgery at Feinberg, and Service Award to Bonnie Typlin, MD '74, instructor in pediatrics, were highlights of the weekend.
In addition, Katherine Kaufer Christoffel MD, MPH '81, GME '75, GME '76, professor in pediatrics and preventive medicine at Feinberg, was honored as the 2011 recipient of the Daniel Hale Williams Award for Distinguished Service to Underserved Communities for her advocacy work related to gun injury prevention and nutrition and childhood obesity.
"Our alumni are our ambassadors to the rest of the world," Darakjian says. "If past is a prologue to the future, our future is bright, indeed."