Cast of In Vivo 2011 Feel Side Effects in Quest to Graduation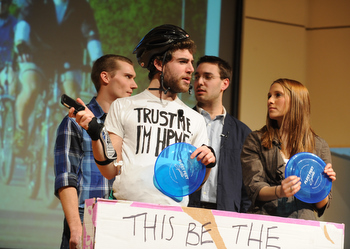 Spoofing the movie The Hangover, In Vivo 2011 "The Side Effect" follows four friends (Clockwise from bottom left)
Allen (Paul Bottone, M2),
Phil (Taylor Reif, M2), Stew (David Weinberg, M2), and Danni (Katelin Mirkin, M2) as they embark on their final medical school adventure.
It's days before commencement and Danni, a fourth-year medical student, and her friends decide to test a Medical Scientist Training Program thesis — the aftermath of which they'll never forget.
The crew's experiment goes horribly wrong when an MD/PhD student who doesn't want the group to graduate and leave her alone at school adds "forget me nows" to the trial medication. The mystery concoction causes the friends to lose their memory. When they wake up the next morning, Danni is missing. With no recollection of the evening's events and only hours to spare, the friends "concept map" their steps in order to find Danni and get her to graduation in time to give her speech.
These scenes set up the action in "The Side Effect," the theme for Northwestern University Feinberg School of Medicine's 32nd annual sketch comedy show In Vivo, which spoofed the characters and plot in the 2009 blockbuster hit The Hangover and asked one key question: Who let the docs out? The story follows four friends, Danni (Katelin Mirkin, M2), Phil (Taylor Reif, M2), HPME student Allen (Paul Bottone, M2), and dentist Stew (David Weinberg, M2), on a comedy-filled tour of Northwestern's Chicago campus.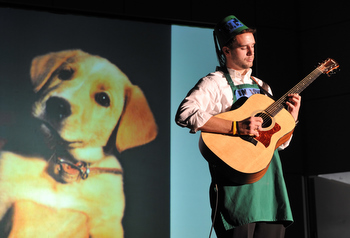 Second-year student Joseph Brown played guitar and sang an ode to Maynard, the dog they stole from faculty member Randy Perkins, in the skit "The Side Effect," a parody of the movie The Hangover.
The crew encounters others along the way, including Jade (Ronak Vashi, M2), a pharmaceutical rep who Stew unknowingly marries in the Northwestern Memorial Hospital chapel, and her daughter Jameson, named after Vice President for Medical Affairs and former Dean J. Larry Jameson, MD, PhD.
The group discovers a receipt for $800 from the Signature Room at the John Hancock Building and a collection of hospital ID bracelets issued by institutions across the city. They also realize that they stole a dog, Maynard, owned by Randy Perkins, PhD, assistant professor emeritus in the Department of Physical Therapy and Human Movement Sciences, and a car belonging to John X. Thomas, PhD, senior associate dean for medical education — a crime they receive retribution for by serving as standardized patients for a class of M1s.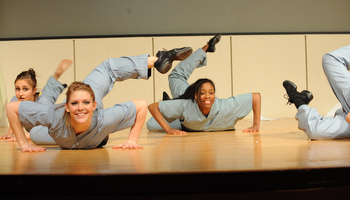 Members of the Dance Interest Group participated in numerous performances, even dressing up in scrubs and dancing to a well-known Madonna song, changing the chorus to "Like a surgeon, guttin' for the very first time."
The cast featured other second-year students, including Ali Habib, Andrew Harris, Andrew Reese, Blake Randolph, Caroline Minkus, Dan Katz, David Wang, Jessie Chai, Joseph Brown, Kim Everett, Nina Lu, Praneet Korrapati, and Winifred Lo. The show also showcased performances from the Jugulars, a student juggling group, and the Dance Interest Group, who choreographed a routine to a well-known Madonna song, changing the chorus to "Like a surgeon, guttin' for the very first time."
In Vivo 2011 even parodied commercials for men's body care products like Old Spice, showcasing former professional football player and current M2 student Timi Wusu touting a product called B.O. Blocker.
Wusu also promoted an anatomy textbook, telling viewers that it's the only one they'll ever need because Larry Cochard, PhD, assistant professor of medical education and director of the anatomy and histology laboratories, wrote it.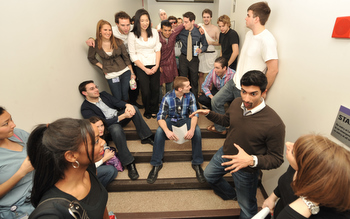 Members of the In Vivo 2011 cast pump each other up backstage before their performance.
The show incorporated bits like "Joe-Von Brown's Swagger Coach," "What it's like to date a Feinberg student," and "Shots (Get Vaccinated)," a rap to the beat of electro-hop group LMFAO, which offered up lines like: "You won't be sick; all it takes is a little prick."
The writers, directors, and producers of In Vivo 2011 included second-year students Tony Joseph, David Pavkovich, Laura Sestokas, and Aaron Thomas. They were supported by first-year students Ali Habib, Caroline Minkus, Blake Randolph, and David Wang, who served as assistant producers.
"In Vivo provides us with a chance to break out of our professional mode and exercise our creativity," said Sestokas. "Feinberg students love to be silly; In Vivo gives us a reason to laugh."
Proceeds from this year's In Vivo show went to Midwest Brain Injury Clubhouse, a non-profit organization that supports individuals affected by brain injury and stroke.