Northwestern Commemorates Martin Luther King Jr.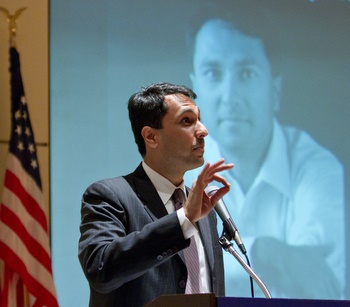 Eboo Patel, PhD, founder and president of Interfaith Youth Core, offered the 2011 Martin Luther King Jr. Day keynote address on the Chicago campus. Patel's speech focused on religious tolerence and the power of symbols within and between faiths to unite and separate.
Northwestern University faculty, staff, students, and alumni came together to celebrate Martin Luther King Jr. Day on January 17, honoring the life and legacy of a great American leader. "Re-examining Symbols of The Struggle" served as the 2011 theme for events on the Chicago campus, which reminded members of the Northwestern community to actively engage in the change they would like to see and to reflect on social justice, racial inclusion, and equality.
Jointly planned by DREAM Committee members from the Feinberg School of Medicine and the School of Law, the commemoration included inspirational performances from the G3 Youth Gospel Choir and operatic vocalist Martin Woods. Among others, Jeff Glassroth, MD, interim dean of the medical school, welcomed those in attendance and pointed out the importance of the celebration.
"Healthcare is a fundamental human right; advancements in our healthcare system and care don't do much good if we're not socially sensitive," Glassroth said.
Eboo Patel, PhD, founder and president of Interfaith Youth Core, a Chicago-based institution that aims to build a global interfaith youth movement, offered the keynote speech: "From the Color Line to the World House: Martin Luther King Jr. and the Conflicts of Our Time."
Patel, a spokesperson for religious cooperation and pluralism, is the author of Acts of Faith: The Story of an American Muslim, the Struggle for the Soul of a Generation and a regular contributor to The Washington Post, USA Today, and CNN. A former Rhodes Scholar, Patel served on President Obama's inaugural Advisory Council of Faith-Based and Neighborhood Partnerships. His Chicago-based international nonprofit group aims to promote interfaith tolerance and cooperation.
In his address, Patel said that Martin Luther King Jr. exemplified the role of religion in history, particularly in the United States. Patel also focused on religious tolerence and the power of symbols within and between faiths to unite and separate.
"Our world should be divided by our people's imaginations, not identities. It should be a place where we may come to know one another," said Patel. "I owe my citizenship to Dr. King. Now it's my single greatest responsibility to talk about America and not Islamaphobia, the fear of my religion."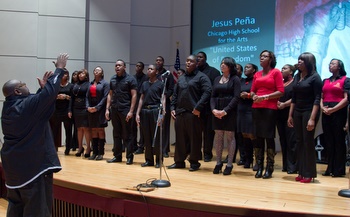 The G3 Youth Gospel Choir of Chicago entertained the audience with inspirational songs like "King Jesus is a Listening."
Patel also emphasized Dr. King's aspirations for racial justice and equality, but above all his passion for relationships — interactions among fellow citizens who needed to learn to desegregate and live harmoniously.
"This country is not a lie; it's a broken promise that can be fixed," Patel said. "We have the chance to expand freedom for everyone, to move America closer to its promise."
The event continued with the presentation of the third annual DREAM Award for commitment to social justice and equality in law or medicine to Salvador Cicero, JD, principal of The Cicero Law Firm, P.C. — a business that provides affordable legal services to underserved communities around Chicago, as well as national and international clients.
The winners of the second annual Martin Luther King Jr. Youth Art Contest were also recognized for their depictions of symbols that represented the struggle faced by Dr. King. Divided into three age categories (grades five, six through eight, and nine through 12), the Chicago area youth had their colorful works displayed in the lobby of Thorne Auditorium in the Rubloff Building, where the day's events took place.
The University organized a weeklong series of programs that reflected on the life and legacy of Martin Luther King Jr. Events included lectures, service opportunities, panel discussions, films, music, and theater. Classes were suspended on both campuses Monday for a University-wide observance of the holiday.