AMSA Sponsors Integrate Chicago Conference at Feinberg
to Promote Integrative Medicine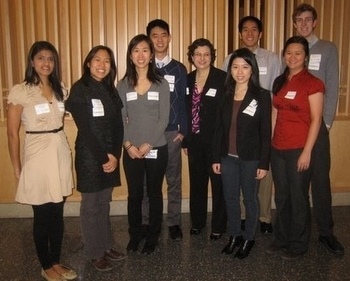 The 2011 Integrate Chicago conference planning committee included (L-R) Anila Bindal, MD, (first-year resident, University of Chicago), Vivian Leung (M2, Rush), Jennifer Young (M2, Feinberg), Lizhou Huang (M2, Feinberg), Jenny Macagnano (fourth-year Doctor of Osteopathic Medicine student, Midwestern), Elizabeth Wong (M1, Feinberg), Kevin Liu (M1, Feinberg), Michelle Lee (undergraduate student, University of Illinois-Chicago), and Michael Donnan (M2, Feinberg).
The American Medical Student Association (AMSA)'s Humanistic Medicine Committee sponsored the 7th annual Integrate Chicago Conference on January 8 at Northwestern University Feinberg School of Medicine. Students from medical schools across the Chicago area joined together to host the conference, which explored integrative, complementary, and alternative medicine techniques — a field of medicine that focuses on treating the mind, body, and spirit.
"The conference was aimed mostly at students in health-related fields; it offered them a chance to find out more about integrative medicine," says Jennifer Young, a second-year MD/MPH student and member of Feinberg's AMSA chapter. "Many physicians may know very little about the field of practice, yet it's one that patients often turn to."
In fact, a November 2010 issue of the Journal of General Internal Medicine reported that complementary and alternative medicine is used by four out of 10 adults in the U.S. — a clear indication of the field's growing popularity. Experts gathered at the one-day event to review with students the many modalities of integrative, complementary, and alternative medicine through panel discussions, presentations, and workshops on topics like self-hypnosis, acupuncture, and herbal therapies for cancer.
Melinda Ring, MD, assistant clinical professor in the Division of General Internal Medicine, offered the event's closing remarks in a speech titled, "The Future of Integrative Medicine: Gotta Wear Shades."
"The future of the field is very bright," said Ring, adding that the recent healthcare reform bill includes information on integrative medicine. "There is a recognition that a disease-based healthcare system is no longer working and the focus needs to shift to prevention."
Ring also outlined the challenges faced by the field, including skepticism and insurance reimbursement issues, as well as the need for additional research to justify the use of certain approaches and greater standardization of licensing and supplements. Despite the opposition, Ring believes the field has gained an upward momentum, with an increase in medical school courses and fellowship programs.
"Students who attended this conference are really the future of medicine," Ring said. "The fact that Integrate Chicago is a student-initiated program shows that our trainees recognize that integrative medicine offers something that is currently missing in Western medicine."
Feinberg students have the opportunity to learn about integrative medicine in an optional rotation during their fourth year. AMSA holds this annual conference in an effort to supplement this training and to educate their peers about the field earlier in their medical school careers.
"The purpose was not for students to necessarily practice acupuncture or massage therapy in the future, but simply to raise awareness of its practice, since students will likely encounter patients who seek this type of care," says Lizhou Huang, a second-year Feinberg medical student and AMSA member.
Students from Feinberg, Rush Medical College, the Chicago College of Osteopathic Medicine of Midwestern University, and University of Illinois-Chicago collaborated to plan the conference, with students also attending from Loyola University Stritch School of Medicine, National University of Health Sciences, and the University of Chicago Pritzker School of Medicine.