By Margaret Ramirez
The Chicago Tribune
August 23, 2010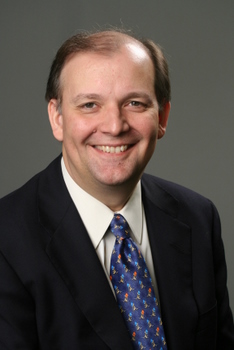 Alan W. Yasko, MD, MBA, FACS, professor of Orthopaedic Surgery at the Feinberg School of Medicine, passed away from a pulmonary embolism on August 19.
Alan W. Yasko, MD '84, MBA, FACS, 51, an internationally known bone cancer surgeon and chief of musculoskeletal oncology at Northwestern University's Lurie Cancer Center, died Thursday, Aug. 19, while attending a medical conference in Cancun, Mexico, family members said.
Dr. Yasko was scheduled to deliver an educational presentation at the Latin American Tumor Society meeting when he suffered a pulmonary embolism, said his wife, Laura.
In his 26-year career as an orthopedic surgeon, Dr. Yasko devoted his life to treating malignant bone and soft tissue tumors in adults and children. Colleagues said few surgeons choose to specialize in bone cancer because of its rare incidence and difficulty. But Dr. Yasko was drawn to the field, inspired by patients and intrigued by bone cancer's complexity.
His expertise made headlines in March when he performed a nearly two-hour surgery on Chicago first lady Maggie Daley to strengthen a right leg damaged by a malignant bone tumor.
"He was an international expert in treatment of musculoskeletal tumors, especially tumors of the pelvis," said Andrew D. Bunta, MD, friend and vice chairman of orthopedic surgery at Northwestern University Feinberg School of Medicine.
"Being in that field also informed him as a person," Dr. Bunta said. "He loved conversation. He was an easy person to talk to, and he really appreciated life."
Alan William Yasko was born in Harrisburg, Pa. As a child, his family moved to Fairborn, Ohio, where he spent his early school years and graduated from Fairborn Baker High School in 1976.
He received a bachelor's degree in biological science from Wright State University in Ohio in 1980, then went to Northwestern University Medical School in Chicago, where he earned his medical degree in 1984. From 1984 to 1989, Dr. Yasko completed his orthopedic surgery residency at Case Western Reserve University in Ohio. There, he met his future wife. They were married in September 1990.
From Ohio, Dr. Yasko moved to New York and completed two fellowships: one in musculoskeletal oncology at the Memorial Sloan-Kettering Cancer Center and a second in metabolic bone disease at the Hospital for Special Surgery.
"He was a cancer surgeon. So because of what he saw, he never left anything unsaid," his wife said. "Every day, he would tell me and the kids how much he loved us."
In 1991, Dr. Yasko joined the prestigious M.D. Anderson Cancer Hospital in Houston, where he eventually became chief of orthopedic oncology. After 15 years in Texas, he joined the Feinberg faculty in 2006 as a professor of orthopedic surgery and also became chief of musculoskeletal oncology at the Lurie center.
In a July 2008 interview published on Northwestern's Web site, Dr. Yasko spoke about bone cancer and difficulties of treatment.
"Bone cancers are extremely rare," Dr. Yasko said. "There are maybe 2,000 to 2,500 new cases of bone cancer a year in the United States. That compares to cancers of the breast, cancers of the prostate, which are in the more than a 100,000 to 200,000 new cases per year … and it encompasses a number of different types of cancers. So, bone cancer is not just a single diagnosis."
His prominence in the field led to numerous research publications and prompted his service in educational roles for the American Academy of Orthopaedic Surgeons and as a board examiner for the American Board of Orthopaedic Surgery. Because of his academic and leadership accomplishments, he was honored with election to the American Orthopaedic Association in 2003. At Northwestern, Dr. Yasko was known for mentoring young students and designing a new residency curriculum.
Friends said Dr. Yasko also had a special fondness for children with bone and muscle tumors, which prompted his interest in bone regeneration and biomaterials resulting in his receiving numerous National Institutes of Health grants. These interests also resulted in his design of an expandable prosthesis for child amputees.
In Texas, Dr. Yasko started a winter tradition of taking amputee children on a skiing trip. Upon moving to Chicago, he continued the trip with young patients from Northwestern and Children's Memorial Hospital.
Dr. Yasko also is survived by four children, Jason, Nathan, Aaron and Alexandra; his mother, Suzanne; and a sister, Lynn Jones.
Visitation will be held from 5 to 8 p.m. Thursday in Wenban Funeral Home, 340 E. Vine Ave., Lake Forest. Mass will be celebrated at 10 a.m. Friday in St. Mary Catholic Church, 175 E. Illinois Road, Lake Forest.
Copyright © 2010, Chicago Tribune