Medical School Journey Complete for the Feinberg Class of 2010
Members of the Class of 2010 spent four momentous years navigating the challenging world of medical school — studying and training in a focused effort to absorb all they could about the practice of medicine. On May 20, these 156 Northwestern University Feinberg School of Medicine graduates joined their family, friends, and faculty mentors at Chicago's Navy Pier Grand Ballroom to complete the last leg of their emotional journey to become physicians: earning their Doctor of Medicine (MD) degrees.
Student Senators Leslie Kim, MD, MPH, Jason Rho, MD, Marguerite Converse, MD, MPH, and Lindsay Kuo, MD, celebrate with Class President Martin Pham, MD.
Giddy with excitement before the ceremony, Stephen and Ruth Pordes, proud parents of Elisabeth Pordes, MD '10, MPH '10, of Glen Ellyn, Ill., joked that they were disappointed that their daughter was pursuing a career in pediatrics. If she were going to continue to serve as their "free medical resource," the family teased, geriatrics would have been a more appropriate career path. Much like the graduates, the Pordes — joined by Elisabeth's grandmother, Margaret, and sister, Anne Bowers, both of London, England — exhibited a sense of humor and sentimentality about the day's events, adding, "Feinberg has been a nurturing place for our daughter to grow."
J. Larry Jameson, MD, PhD, vice president for medical affairs and Lewis Landsberg Dean of the medical school, cut through this nervous anticipation and set the stage for the long-awaited event — the culmination of nearly two decades of formal education. Jameson reminded the 151st graduating class that they were departing medical school during a time of healthcare reform and great scientific advancements — an exciting, yet challenging time of change and transition that they are well-poised to handle and succeed in.
Jameson went on to say, "Please retain the passion that brought you into the profession of medicine and the core values that you have developed during your training here; these will guide you throughout your career. Also, never forget along the way that Northwestern University Feinberg School of Medicine will always be one of your homes, an alma mater, a place to renew your friendships."
In his remarks, University President Morton O. Schapiro, PhD, again spoke directly to the graduates — those individuals who he said he was inspired by and in awe of — declaring a certain faith he has in them to proudly represent the medical school and the university in their practice of medicine. "I know you're going to change the world," he emphatically stated.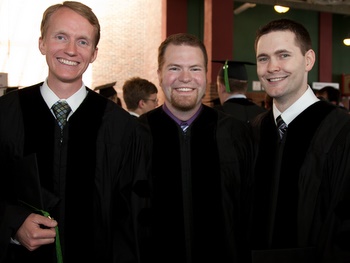 As they go their separate ways for residency training, close friends (from left) Benjamin Currie, MD, Chazz Dabbs, MD, MA, and Robert Blackwell, MD, agree that the friendships they've formed along the way will be what they miss most from medical school.
During the ceremony, Thomas C. Corbridge, MD, professor of medicine in the Feinberg Division of Pulmonary and Critical Care Medicine, received the 2010 George H. Joost Award for teaching excellence. During his acceptance of the award, Corbridge reminded the class to savor their accomplishments and make certain they remain students for life. He added that he was "truly moved to be recognized by such an intelligent group of physicians."
In his presentation of the award, Class President Martin Pham, MD '10, of Santa Ana, Calif., described Corbridge as a "persuasive instructor and wonderful friend." Pham, who was matched in the University of Southern California's neurological surgery residency program, is excited to be returning to his home state (and the warmer weather it provides) to start his career.
"I've always been interested in science and want to use that knowledge to help people directly," Pham said. "As a physician, I'll be able to help people at their time of greatest need; it's more than an honor, it's a privilege."
Following the distribution of the faculty award, Daniel D. Federman, MD, senior dean for alumni relations and clinical teaching and Carl W. Walter Professor of Medicine and Medical Education at Harvard Medical School, presented the keynote address. His light-hearted, yet insightful discourse focused on three main topics (teaching, loving, and choosing) and, for each, he provided a mantra that the newly proclaimed doctors could bear in mind throughout their careers.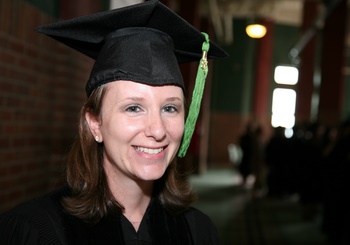 Class Speaker Susie Morris, MD, MA, gifted her classmates with a speech that was both humorous and retrospective.
In regards to teaching, Federman's advice was to "stick to the basics, think out loud, and be kind," reminding the class to never miss a chance to say something positive to someone else. As he discussed loving, Federman recalled his residency experience and cautioned graduates that the long hours, constant fatigue, and overwhelming responsibility for the life and death of patients would take its toll on their relationships. Despite their hectic schedules, he counseled them to "kiss and hug your loved ones at every chance" because you never know when you will fall asleep and lose the opportunity to do so. When speaking of making choices in a world of "moral hazard," Federman pleaded with the graduates to "always take the high road," regardless of the pressures they will most certainly face.
The guidance provided by Federman's poignant address served as the final lesson to be learned by the Class of 2010. It was, at last, time for Jameson, along with Schapiro, to distribute diplomas, while the college mentors hooded each graduate, signifying their transition from student to doctor. During the conferring of degrees, many graduates were honored with additional academic distinctions. In fact, ten students (plus one candidate for Dec. 2010) graduated with a joint MD/Master of Public Health, three (plus four candidates for June 2010) with an MD/Master of Arts in Medical Humanities and Bioethics, and 10 others from the medical scientist training program who received combined MD/PhD degrees.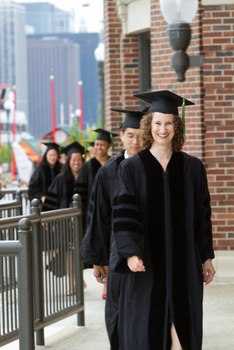 Amanda Redig, MD, PhD, leads fellow graduates to the champagne toast following the ceremony.
Following the time-honored hooding ceremony, Susie Morris, MD '10, MA '10, of Price, Utah, addressed the convocation as the class speaker — selected for this role by the deans of the medical school, as well as her peers in the Student Senate who were given the opportunity to review a draft of her intended speech. Morris will soon begin her psychiatry residency at the University of Southern California.
In her speech, Morris regaled the audience with an embarrassing story about a patient care mishap that a kindhearted resident had deemed her "one big screw up," and tales of medical school memories she would carry with her forever. Morris also reflected on her teachers — those faculty members who remember that in the beginning, nothing is obvious; that questions should not be ego driven; and that "Is there anything else I can do for you?" is student speak for "Can I please go home now?"
To conclude the ceremony, the graduates recited the physician's oath — the same oath they took as first-year medical students — pledging to maintain by all means in their power "the honor and the noble traditions of the medical profession" and always considering the health of their patients first and foremost.
Upon departing the ballroom, the Class of 2010 gathered together with Jameson, who led a traditional champagne toast that celebrated their achievements and marked the beginning to the next phase of their lives — their new journey as physicians.