In Vivo 2010 Took Cast Where No Feinberg Student Has Gone Before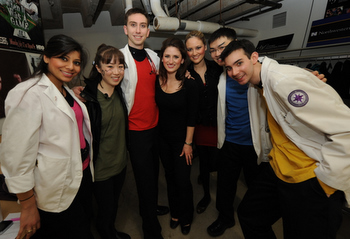 A few of the cast members from In Vivo 2010 celebrate backstage after their performance.
Looking to let loose in medical school? There's an app for that.
If you attended Northwestern University Feinberg School of Medicine's 31st annual sketch comedy show, you were told that if you're looking to review an X-ray or even cheat on the boards, well, there's an app for that too.
In Vivo 2010 spoofed the well-known Mac vs. PC commercials, as well as other pop culture phenomenon, like Miley Cyrus' hit song "Party in the USA," where a videotaped skit showed medical students jumping on the tops of lab tables "spittin' them facts like yeah" and crooning, "It's a party inside Tarry."
The show also featured "Short White Coats," a parody of "Men in Black," originally performed by Will Smith. In place of the original lyrics, Armando Davila, one of the show's producers, rapped, "Here come the short white coats, busy writing progress notes, unsure of the SOAPS they wrote."
While numerous song, dance and talent sequences, including a group of student jugglers called the Jugulars, were intermingled throughout this year's show, the main theme, "NUFSOM Trek: Med School Begins," was based on the 2009 version of the blockbuster film Star Trek. The story followed crew members — played by second year medical students — Jamie Xavierius Kirk (Lora Alkhawam) and Spock (Terrance Lee) aboard the USS Enterprise, struggling to combat Nero (Robin Skory), the evil MD/PhD student who is determined to use genetically modified lab rats to infect the Chicago campus population with a lethal strain of the H1N1 flu virus.
The crew also featured Uhura (Monica Boen), Leonard "Bones" McCrimmon (Sebastian Lara), Sulu (Anita Goyal), Chief Pike (Eric Tuday), Chekov (Jason Chin) and Scotty (Ravi Patel), a team of young, eager physicians who had to work together on Kirk's mission to stop Nero and save the future of healthcare.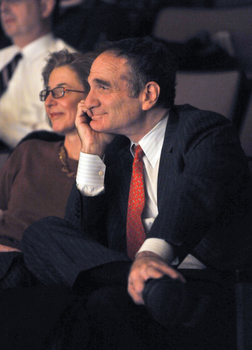 John A. Kessler, MD, Ken and Ruth Davee Professor of Stem Cell Biology and chair in the Feinberg Department of Neurology, and his wife, Marilyn Kessler, MD, assistant professor in the Feinberg Department of Family and Community Medicine, attended In Vivo in support of their daughter, Allison, a second year medical student, and her friends.
The writers, directors and producers of In Vivo 2010 included second year students Gathi Abraham, Kyle Basques, Armando Davila and Steven Quinn. They were supported by first year students and protégés Tony Joseph, David Pavkovich and Laura Sestokas, who served as assistant producers.
"In Vivo is always a long-awaited event for fellow classmates," said Quinn. "Everyone enjoyed last year's show so much that we felt compelled to make it even better this year. We worked day and night to make sure we lived up to the expectations set in 2009."
The producers added a few comical surprises, such as scenes featuring Feinberg faculty members, to ensure their peers were laughing until the end. Larry Cochard, PhD, assistant professor of medical education and director of the anatomy and histology laboratories, played Kirk's mentor from the future, and Warren Wallace, MD, associate dean for admissions, was featured in a video skit called "Timi Wusu: Med School Linebacker." The writers even teased Larry Jameson, MD, PhD, vice president for medical affairs and Lewis Landsberg Dean of the medical school, claiming that a 1970s suede, disco jacket was borrowed from his closet.
Proceeds from this year's In Vivo show went to Tyler's Touch, a foundation that assists the parents of children with acute myelogenous leukemia (AML). Joseph Evans, a third year Feinberg student who is on the board of directors for Tyler's Touch, was present to thank attendees for their donations, saying that for families battling AML, the burden is not only emotional but financial.