Dr. Zoloth Honored for Teaching Excellence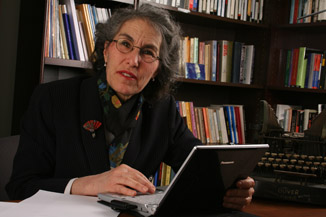 Dr. Laurie Zoloth
Laurie Zoloth, PhD, professor of medical humanities and bioethics at the Feinberg School, is one of six Northwestern University faculty members honored with university-wide awards for teaching excellence. She serves as director of the Center for Bioethics, Science and Society and as director of the Brady Program in Ethics and Civic Life.
Dr. Zoloth is an outstanding educator with a dedication to teaching and to the classical mission of the University. Primarily an ethicist, her interests range across philosophy, religion, Jewish studies, law, justice theory, bioethics, and medical ethics. Her versatility as a scholar and passion as a teacher are evidenced by her appointments as professor of religion in the Weinberg College, and a courtesy appointment in the School of Law, in addition to her Feinberg School appointment. She has introduced new courses in all three schools.
In the medical school she focuses on bioethics, research ethics, and medical humanities, attracting students from both the medical and law schools with her course on bioethics and law. In Weinberg, her courses address the tension between research in bioethics and medicine and between religious theory and moral philosophy.